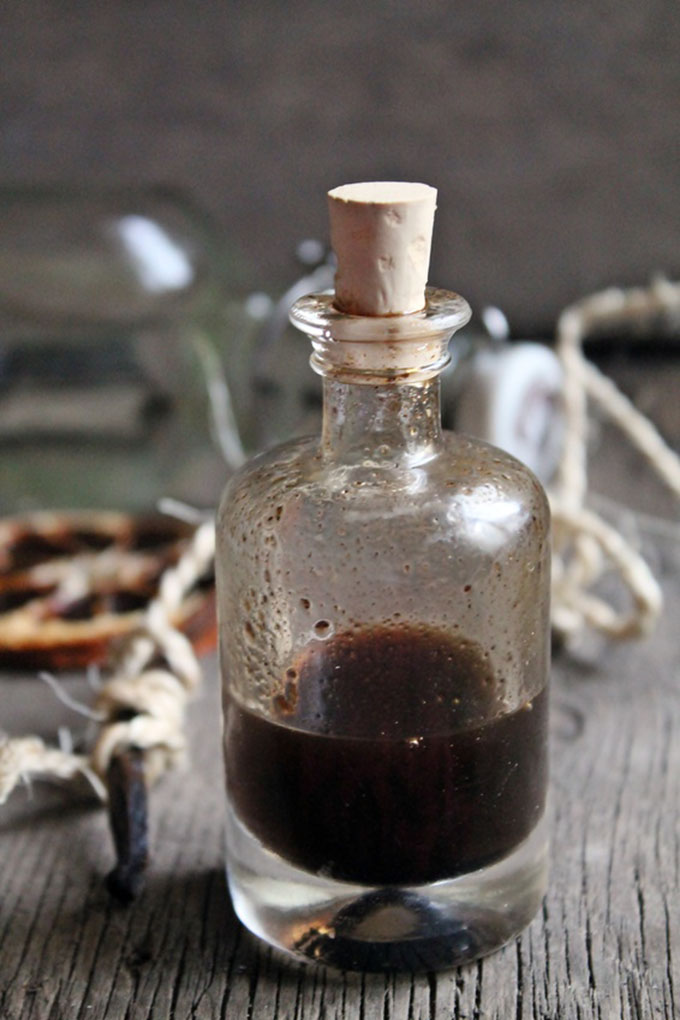 DISCLAIMER: I am not a health care provider, trained herbalist, nor homeopath. I am just a person who has used and researched these integrated therapies for close to 20 years and I use them on myself and my family and have had excellent results. Please read the safety precautions of each herb before ingesting, or consult a health care provider.
We are still in the throes of winter here in Northern Vermont, as are most of the Northeastern States. I have heard the word "snow-pocalypse" one too many times this season. Although some people are starting to see signs of spring, we typically don't see anything but white until April at the earliest and this year has been particularly harsh with temps in the -10 to -20 range for weeks. So even though many are experiencing a harsh winter this year, people do get sick all year long, so it is never the wrong time to make some homemade tinctures. In fact if they are calling for another huge snowstorm where you are, staying inside and making medicines is a great way to use the time at home!
I love making my own medicines. There is something powerful about taking your health into your own hands, using nature's healing power. There is much you can do on your own, in your own home to care for your family with small aches and pains or a case of the sniffles. Using this winter as an example, there are many days it hasn't been safe to get in the car and venture forth to the doctor, so having some options at home can often be the safest route.
These herbs together make a perfect, well-rounded cold and flu remedy for any of the season's "nasties". Each of these herbs can also be taken individually or together as a tea, which helps immediately. Tinctures are more concentrated and powerful and take longer to steep. I use tinctures when I need to "bring out the big guns" so to speak. That is why it is a good idea to make the tinctures before you get a cold, ready and waiting just in case!
Boneset is an herb I learned about from a teacher of mine years ago and it is crucial for helping the body ease through the aches and pains of cold and flu. Boneset is an herb that makes your body feel better, instead of feeling like a truck hit it.
Elder is all the rage these days – from elderflower liqueurs like St. Germaine to wonderfully soothing elderberry syrups for cold and flu. Elderberry is a great immune booster and chock full of antioxidants and Vitamin C. There is something in the tartness of the fruit that makes remedies taste pretty good too and I love the color of elderberry.
Chaga is my new love. The more I learn about it, the more I love it. I just shared a recipe recently for Spicy Chaga Chai Tea . Chaga is a mushroom that grows mainly on birch trees. It has been used for healing by cultures all over the world because of its amazing properties and is one of nature's most potent adaptogens. An adaptogen helps your body fight the effects of stress and disease. Chaga is full of minerals, vitamins and amino acids. It is anti-bacterial, anti-fungal, anti-viral and anti-yeast. Some even claim with good reason that it is cancer fighting. This is an amazing one of nature's remedies and that is why I add it to my tincture and also why I take chaga nearly everyday in the form of Chaga Chai.
Echinacea is one of the first herbs that people think about when they get sick, and there is solid science to back up the use of this herb too. Echinacea has been often linked with helping people get over colds faster and also as a preventative by boosting the immune system.
To make the Tincture:
I really like the recipe on this website and followed it almost exactly.
Tools & Ingredients:
1:5 dried herb to alcohol mixture; the alcohol mixture should be 50 percent alcohol and 50 percent water. I like to use a mixture of brandy and vodka for the alcohol part.
Pint sized glass jar with lid
Small mesh strainer
Amber bottle with dropper
When I made my tincture, I checked to see how much brandy and vodka I had and then went from there with measuring out the right amount of herbs. I used 50% Elderberry and an equal amount of the other herbs: Chaga, Boneset and Echinacea to round out the other 50%.
METHOD: Grind the dried herbs down to the consistency of coarse cornmeal by using a coffee grinder, Vitamix or other high powered grinding tool. Measure and mix the alcohol mixture in a separate jar. Weigh the herb and pour it into the macerating container. Slowly pour the alcohol mixture over the ground herb.
STEEPING: Cover tightly, shake, and set to macerate in a dark place at room temperature. Label with the current date and herb name. Shake daily for a period of 3 weeks. At the end of this time, pour the mixture into a strainer and express thoroughly by hand. Collect the crude tincture in a jar, label it, and set it on a shelf to settle overnight. The following morning, pour off the liquid through a filter and collect the finished tincture in a jar. Store in labeled amber glass bottles, in a cool room, and out of the sunlight.
DOSAGES: You will have to experiment with dosage, start with about 5 drops, to make sure there are no reactions. However, the average dosage for children from 4 years to 10 years is 5 to 10 drops of well-diluted tincture in water or juice, taken 3 times daily. The average dosage for children from 4 years to 10 years is 5 to 15 drops of well-diluted tincture in water or juice, taken 3 to 5 times daily. The average adult dosage is 30 to 60 drops (1 to 2 standard droppersful) diluted in a little water and taken 3 to 5 times daily.
Note on Alcohol: If you don't want any alcohol to remain, and I like using this method for children, or those with alcohol dependency, place the drops in a cup of boiling hot tea or hot water and let the alcohol evaporate. Then you can drink it hot or when it has cooled off.
Note on Herbs: I order all of my herbs from Mountain Rose Herbs, I like their quality and have always enjoyed their customer service. They also sell bottles for storing tinctures.
UP THE YUM: As you crush and mix your herbs, focus on your intention for healing and imagine the power of your intention radiating from your heart, into your arms and down through your fingers, finally out into the substances you are working with. Thank all of the herbs for coming together for healing.