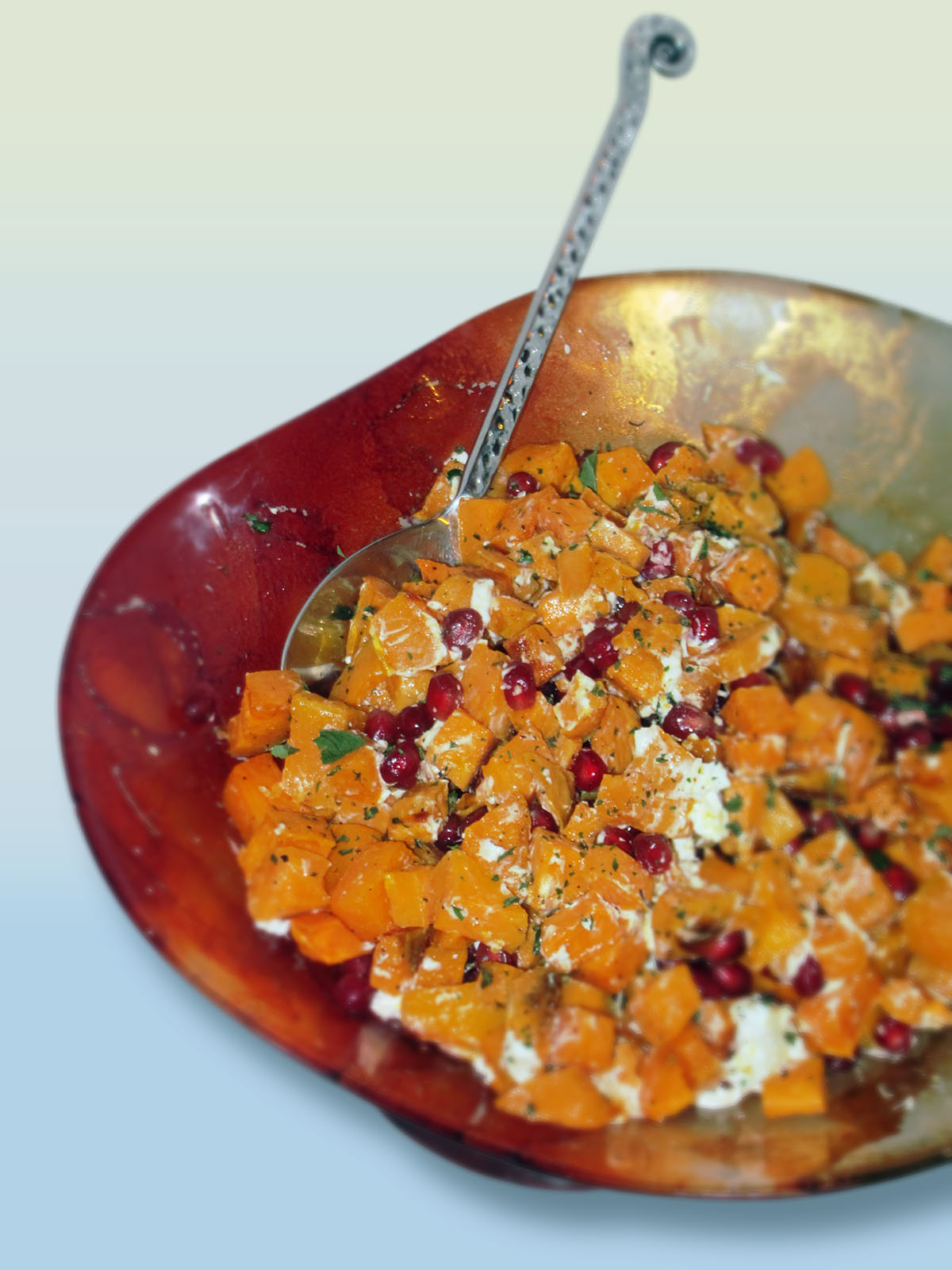 I love vibrant dishes that are not only eye-catching but also flavor-popping, those two elements engage all the pleasure centers and make whatever you are eating taste amazing! These kinds of meals are easy to create in the summer and in warmer climates when the earth is able to offer an immense bounty, but don't forget that winter also offers its own beauty, which is why I have and will continue to post winter salad recipes often during this season.
This dish highlights that beauty – vivid and sweet orange butternut squash working together with the jewel-like beauty of tart pomegranate arils (seeds). This winter salad is bursting with flavor and makes you realize that winter isn't really so lifeless after all, that there are seasonal joys even now.
This salad doesn't take much to prepare, especially if you have a package of pre-cut organic butternut squash in the fridge, which I usually do. My family also loves eating pomegranates in the winter, so we typically have those on hand as well. If you don't have butternut squash, I think sweet potatoes would also work well here. The chèvre is an added element both in taste and also in texture (it is one of my favorite ingredients, as you have probably noticed) and the mint and lemon juice just enlivens the whole thing.
INGREDIENTS:
butternut squash
olive oil
salt and pepper
pomegranate arils
chèvre (goat cheese)
lemon juice
mint
To learn how to make this vibrant and delicious winter salad, please grab a copy of my book:
Love in Every Bite: The Secret to Cooking Healthy Recipes with Positive Energy.
UP THE YUM: Cut the butternut squash into bite-sized pieces. They don't have to be quite as small as the pomegranate arils, but the closer in size they are, the more "perfect bites" with all the flavor elements at the same time you are likely to get as you eat your way through!