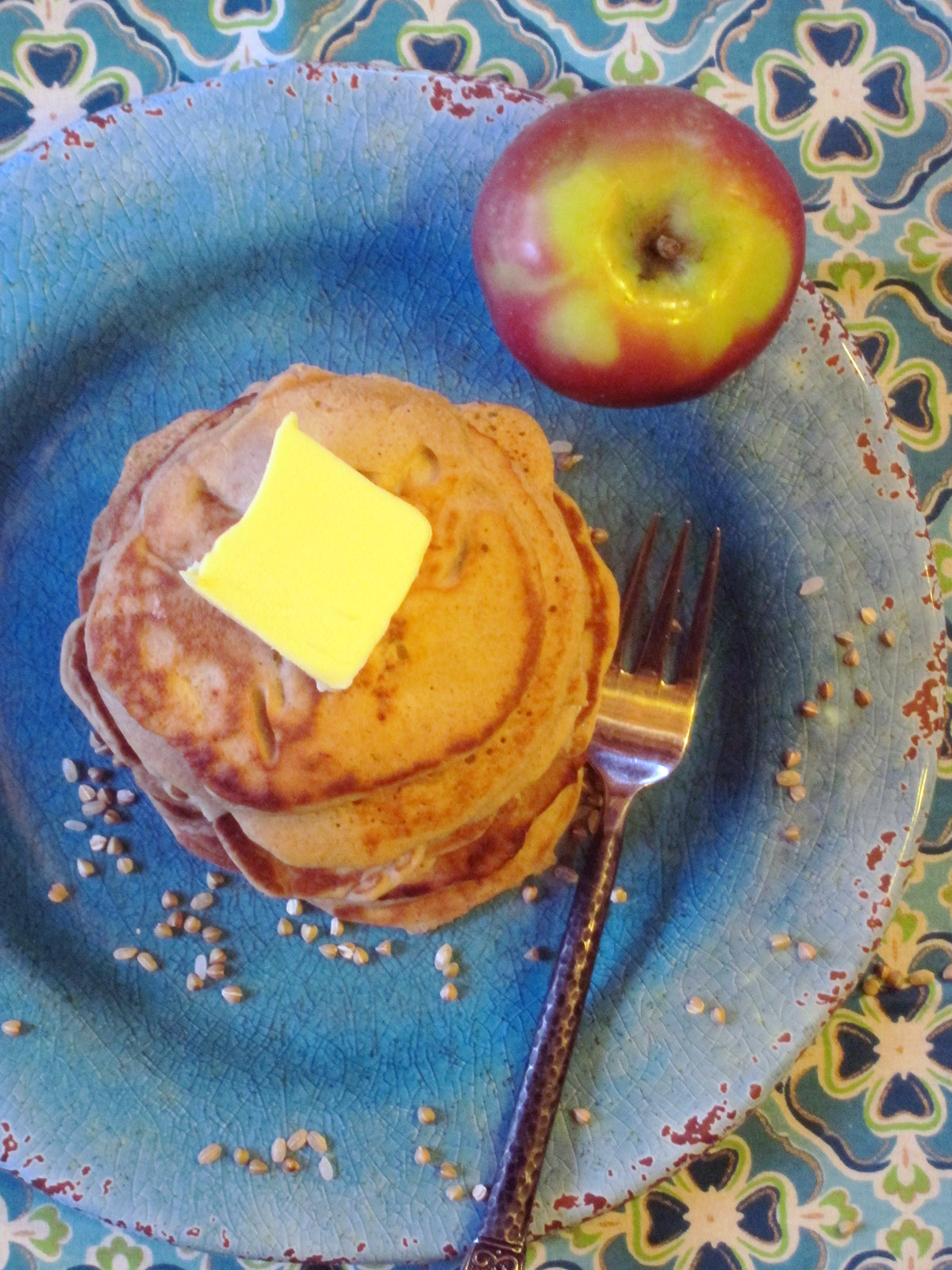 This is a healthy, made from scratch pancake. The nutty taste of buckwheat pairs perfectly with tangy yogurt and sweet apples to create a hearty breakfast pancake, topped with good quality butter and maple syrup, it is a treat the whole family will enjoy.
I admit it has been a while since I've made pancakes from scratch. King Arthur Flour brand has a deliciously convenient line of gluten free flour blends and these days their King Arthur Flour Gluten Free Pancake Mix
is the one I usually turn to on Sunday mornings.
However, this week, I woke up inspired to make pancakes from scratch and when I say scratch I really mean it. Enter the Country Living Grain Mill
For several years I used to grind most of my own flours to bake bread, pastries and the like. This was before children and it was when we were building up our homestead. In those days we lived very close to the land and had time to do a lot of self-sufficient activities like building fences and hay feeders, scything fresh grass and herb for our animals, etc.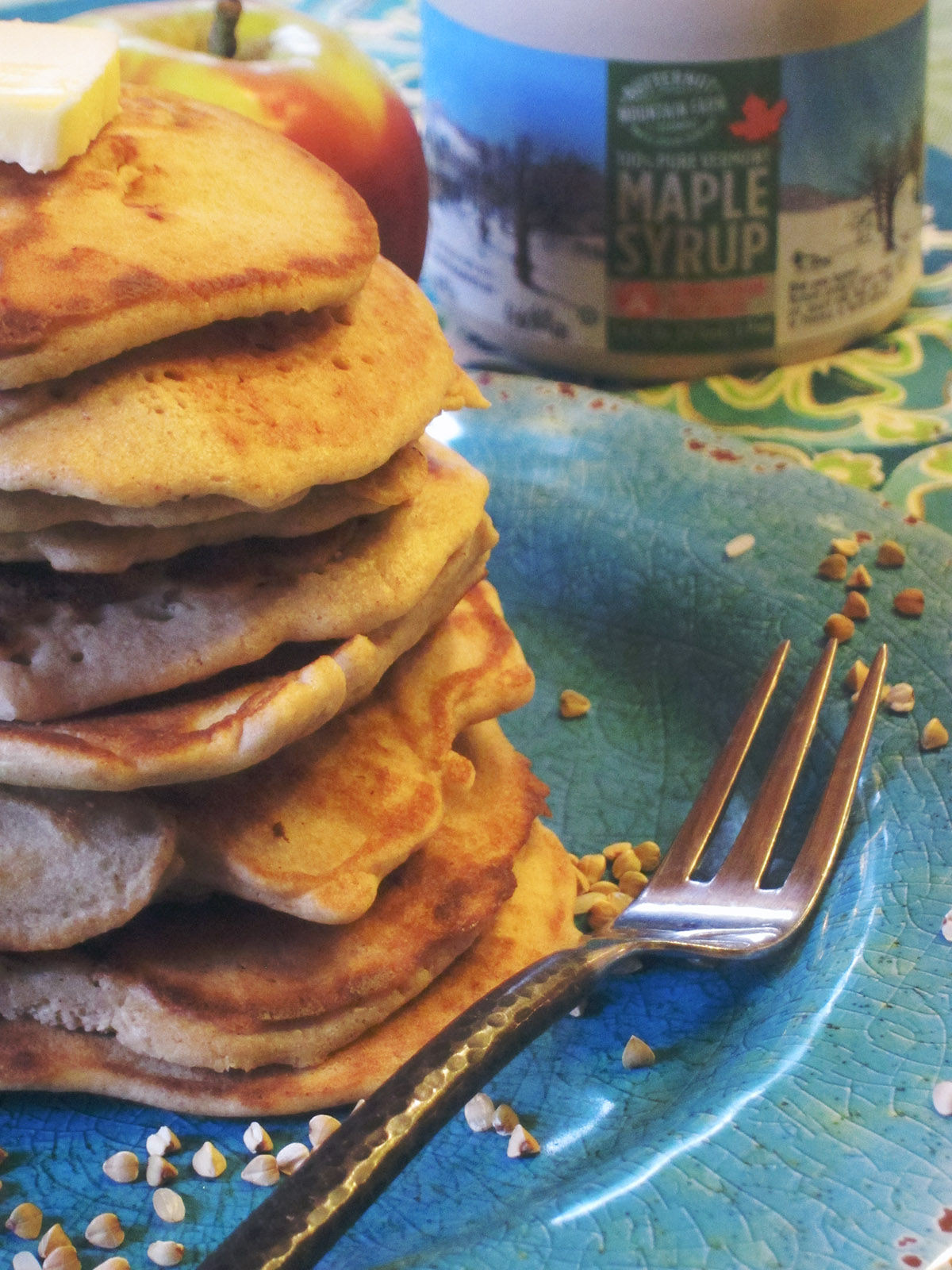 Life is a little different these days and although we still homestead, things have become a lot easier because we've been at it for so many years and put so many systems in place to make our lives easier. That's a good thing, because raising a family and building a new business, not to mention writing books has taken up a lot of the time we used to be able to afford to more manual chores.
I often miss those slow days, sweat on my brow, hands ragged and dirty and a stray strand or two of hay embedded into every piece of clothing. One day, I will get back to that life, but right now, I am needed in other areas.
So here I was last Sunday morning reminiscing and decided to bust out the old flourmill and begin grinding. However, being 7 months pregnant, I must admit that hubby did most of the work. But I was heartened to see our little 2 ½ year old toddler, Alba interested in learning. It was a little too hard for her this time, but in a year or so, I can see us making lots more pancakes from scratch with her taking over this job!
INGREDIENTS:
1 cup plain yogurt
1 cup of milk
3 eggs
2 TBS. coconut oil, melted
2 ½ cups buckwheat flour (pre-ground is OK!)
1 teaspoon baking powder
pinch of salt
¼ teaspoon nutmeg
2 teaspoons cinnamon
1 teaspoon vanilla extract
2 cups of apples, diced
To learn how to make these pancakes, please grab a copy of my book
Love in Every Bite: The Secret to Cooking Healthy Recipes with Positive Energy.
I hope you enjoy these pancakes as much as we did. Alba ate 3 pancakes herself and has been asking for them everyday. Good thing there were leftovers!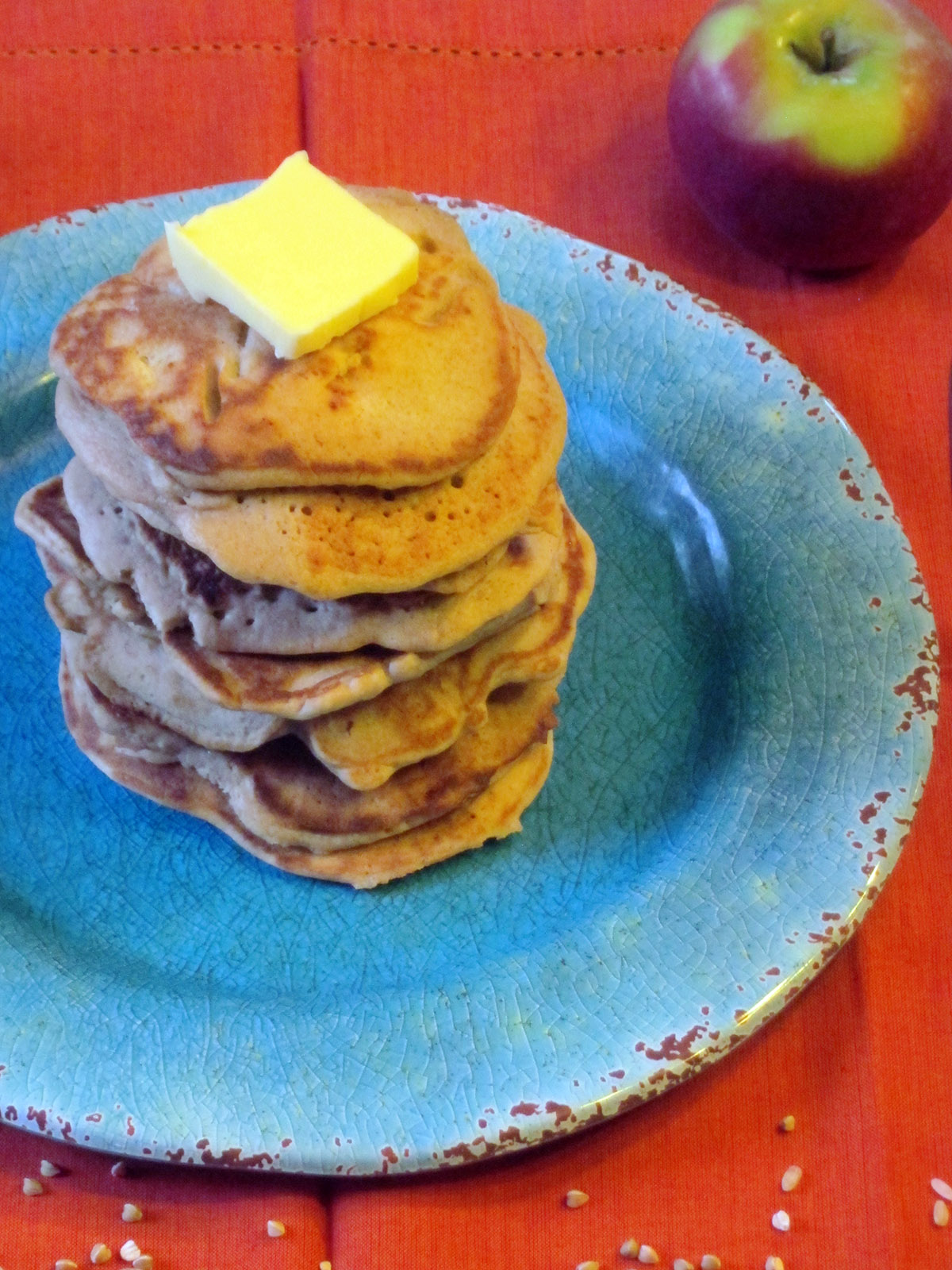 UP THE YUM: Use really good quality butter on your morning pancakes. You can taste the difference and it enhances the flavors all around. I am a fan of Kerrygold or Organic Valley.
FEED YOUR CHAKRAS: Root