This is a wonderful little scrub to have in your toolkit. It is easy to make and multi-purposed: great cleanser and toner for your skin, and energizing and cleansing for your aura and energy field. I even use them to scrub my chakras. Using a salt scrub is a simple self-care ritual that doesn't take much time, but the benefits of adding it in are multi-fold.
Salt is well known for its healing properties. It is used for cleansing and preserving in medicine (think saline solution), cooking (think salt curing) and magically (think protection). So it is a safe base for anything you would want to use topically. It is exfoliating, making your skin nice and soft. Using scrubs helps with circulation too. So basically a salt scrub gets things moving with the physical body AND the energetic body.
What I really love about salt scrubs is that they can be customized to suit your needs. In the blend I make for my family I use rosemary and sage, as well as birch bark and leaves. Birch is one of my plant allies and so I use parts of the birch often in my magical formulas. From a cooking perspective think of it as a "signature spice", so I encourage you to think along those lines too and include elements from your plant allies.
I will be listing common herbs and their properties further down in the post, but right now I want to explain how I use the scrub.
Our energy bodies are in constant contact with the world around us and therefore other energy bodies. Other people emit energy, pets, plants, trees, rocks, etc. They all exude their own energy and we are surrounded by these energies in our daily lives. Some of this is very nice. However, we are also surrounded by more draining and negative energies – like when you are around someone in a bad mood and it creates a certain feeling that seems to linger in the air and can begin to affect our own mood. Also, our electronic devices, cell phone, TVs, waffle irons and toasters are all emitting energy. This is part of our modern world that our ancestors never had to deal with and it puts a strain on us that our bodies have not yet adapted to, which is why it is nice to have tools to mitigate this and the possible damage it may have.
I use my salt scrub at least once a week, sometimes more often, depending on the week! My scrub is geared towards banishing negativity, and cleansing my energy centers. As an empath I tend to take on other people's energy and so it is important for me to make sure I keep my aura protected and clean, regularly. I also put the salt scrub in my daughter's bath water a few times a week.
After I have washed myself normally, I take a bit of scrub in my palm and rub my palms together, then I scrub the tops and insides of my hands vigorously, imagining any lingering energy there being scrubbed away. Then I do the same to my feet, tops and bottoms. The hands and feet are the two areas that physically touch our world all the time, so they come first. After that, I scrub the front and back of all 7 chakra areas, saying a personalized mantra for each chakra (which I will share in upcoming posts, as I discuss the chakras more in depth). Then I scrub the rest of the surface of my body with the scrub. After that I stand under the shower and imagine all the stagnant, negative and draining energy washing away and down the drain and a protective shield remaining. After I have cleansed myself in this way, I lightly blot myself with a towel and allow my body to air dry.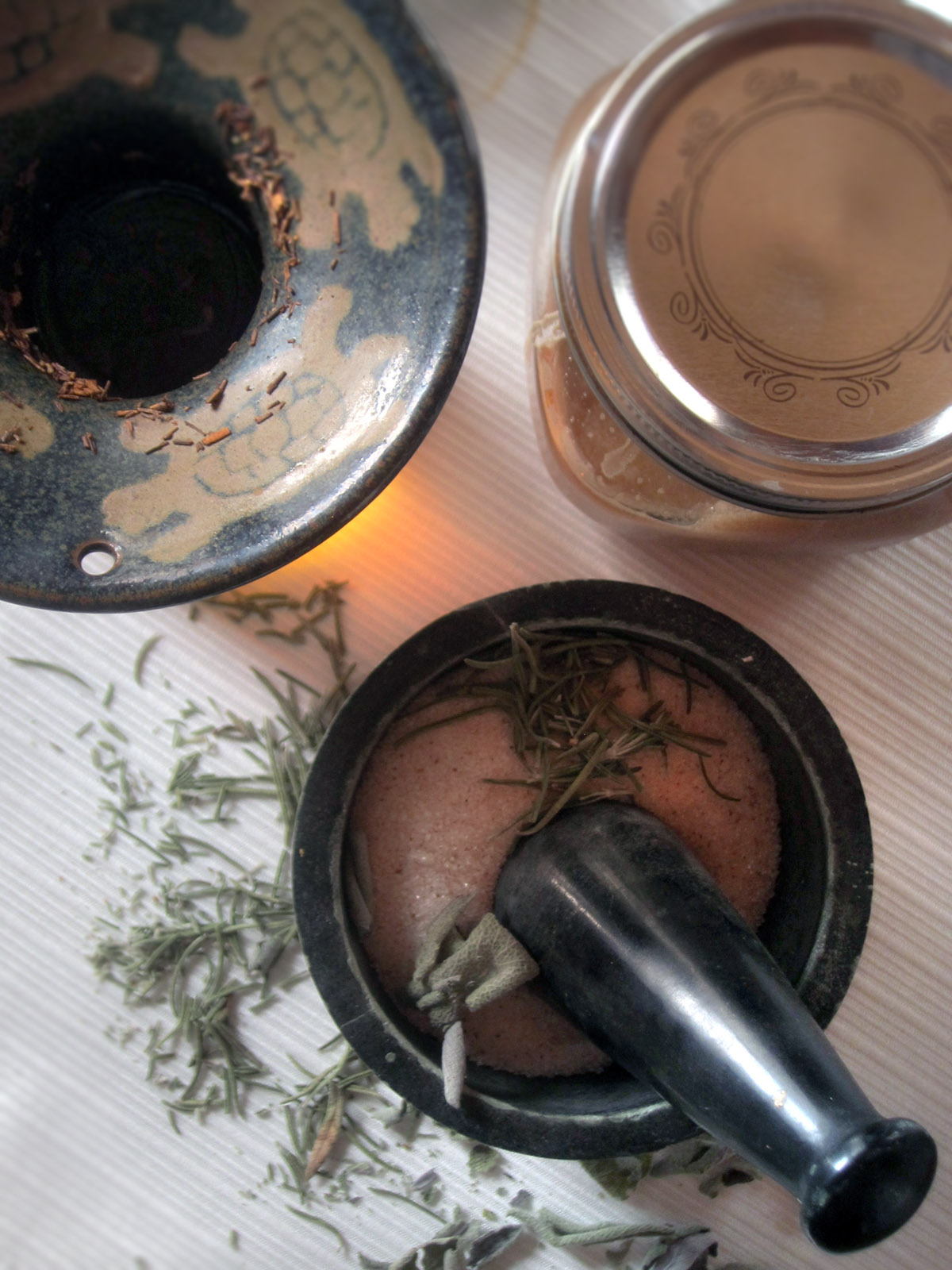 Here are some commonly used herbs that most people would have in their kitchen and their energetic correspondences. I specifically chose herbs that are good for protection, purification, banishing negativity, etc. and are also pleasant to use topically. There are some herbs and spices great for purification work like black pepper, but it probably wouldn't feel good rubbed into the skin!
This website has a comprehensive list of many more herbs and their properties, should you want to add some more specific or "signature" elements to your scrub.
Basil: dispels confusion, fears & weakness, helps drive away negative energy
Bay Leaf: healing, protection, purification, useful against black magic
Cinnamon: healing, prosperity, protection
Cloves: banishes negativity, protection, raises spiritual vibrations
Coffee: dispels negativity and is grounding (if you use coffee in your scrub, you can just mix ground coffee with the salt – coffee is also exfoliating)
Fennel: healing, protection and purification
Lavender: harmony, love, peace, protection
Lemon: purification, removes blocks
Lime: protection and purification
Marjoram: cleansing, dispelling negativity and purification
Peppermint: clears negative energy
Rosemary: purification, remembrance, removing negativity
Sage: health, purification, removing negativity
Thyme: loyalty, protection, purification
TOOLS:
Glass jar
Tea strainer
Cup
UP THE YUM: There is a lot of yummy goodness already going on here, but when I am working with plants, especially for more energetic purposes, I like to thank each plant and imagine its desired properties entering my concoction as I add it in.

Cleansing and Energizing Salt Scrub
Salt scrubs are easy to make and customize. They are a wonderful component for both your beauty and mystical toolkits.
Author:
The Yum Queen (Jenn Campus)
Ingredients
Water
Herbs (I use a teaspoon of combined herbs for every 8 ounces of space in the jar)
Sea salt (enough to fill the jar you are using)
Instructions
Heat water to make your herbal tea. In the meantime, using a mortar and pestle, or finding another way to crush and mix, combine all of the herbs (not the salt!) that you are using.
Once the water has boiled, place herbs in tea strainer and pour water over the herbs. Let tea steep until it is cool to the touch. I like to say my intention for purification and banishment of negative energies over the tea as it brews.
In the meantime fill your glass container with sea salt. Once the tea is finished steeping and is cool (you don't want to melt the salt) add as much of the tea as you can to completely fill the container. Add a little more salt if needed to fill the jar.
Your salt scrub is finished and ready to be used!