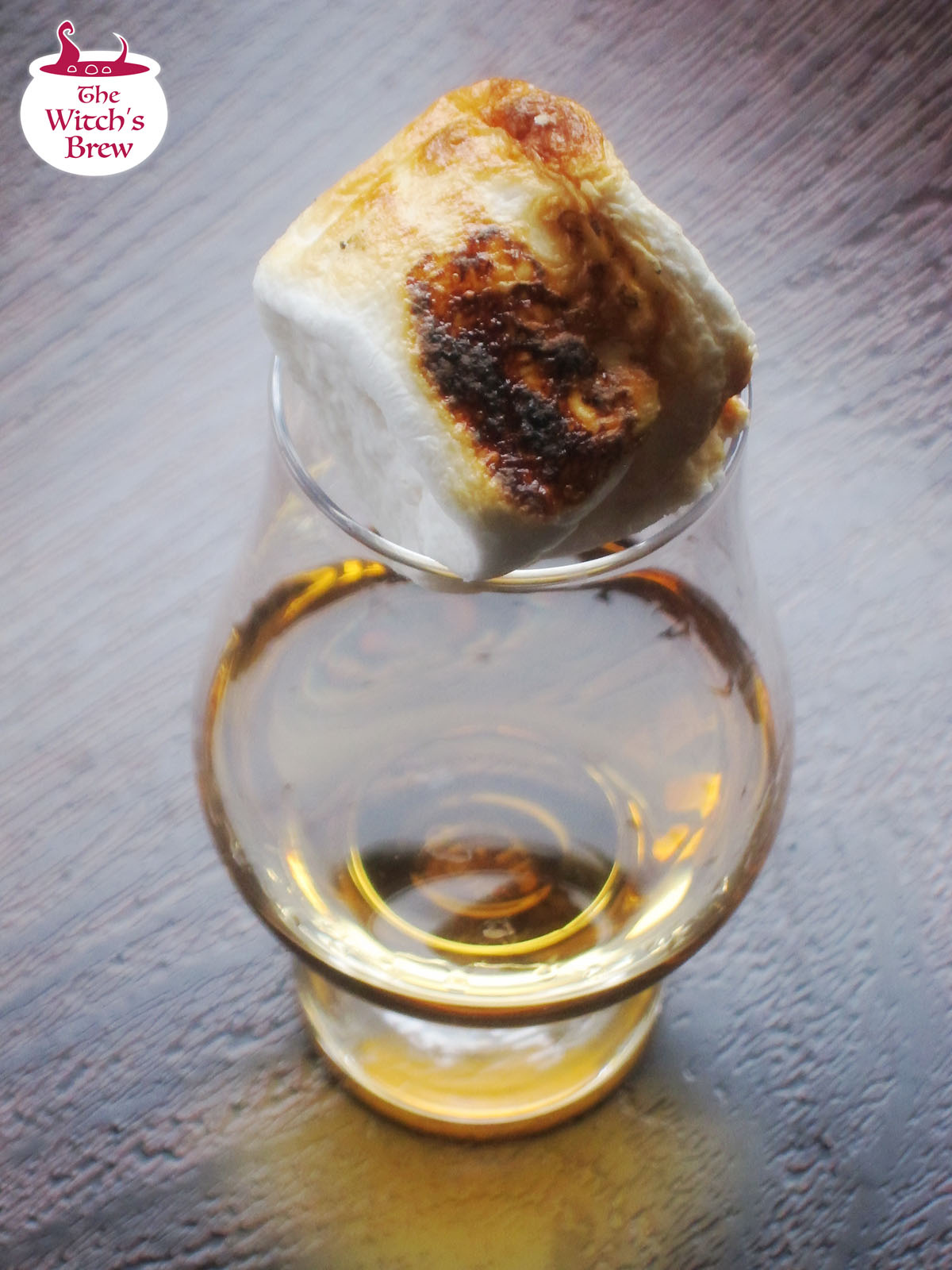 Yes, you read that right, I found a wonderful combination perfect for any barbecues or bonfires you might be attending this weekend. This is the perfect treat for the grownups to enjoy after the sun has gone down and you are having a moment to relax.
I love gin drinks in the summer, but at heart I am a whisky girl all the way. I have been drinking and learning about single malt scotch ever since my first trip to Scotland back in the early 2000's and I often surprise liquor store clerks and whisky pourers alike with the knowledge I have acquired over the years. I guess I am a bit of a connoisseur of sorts.
Recently I have started trying the American's answer to scotch, bourbon. If you talk to whisky drinker they generally tend to go for one and not the other. I don't want to be that person at least not until I have given bourbon a good try.
If TV shows like Vampire Diaries or The Originals teach us anything it is that a stiff drink of bourbon can help one deal with any array of problems from pesky witch covens and werewolves to unexpected people coming back from the dead. If bourbon can help with that, I am sure it can also be enjoyed for its own sake, which is what I am beginning to do.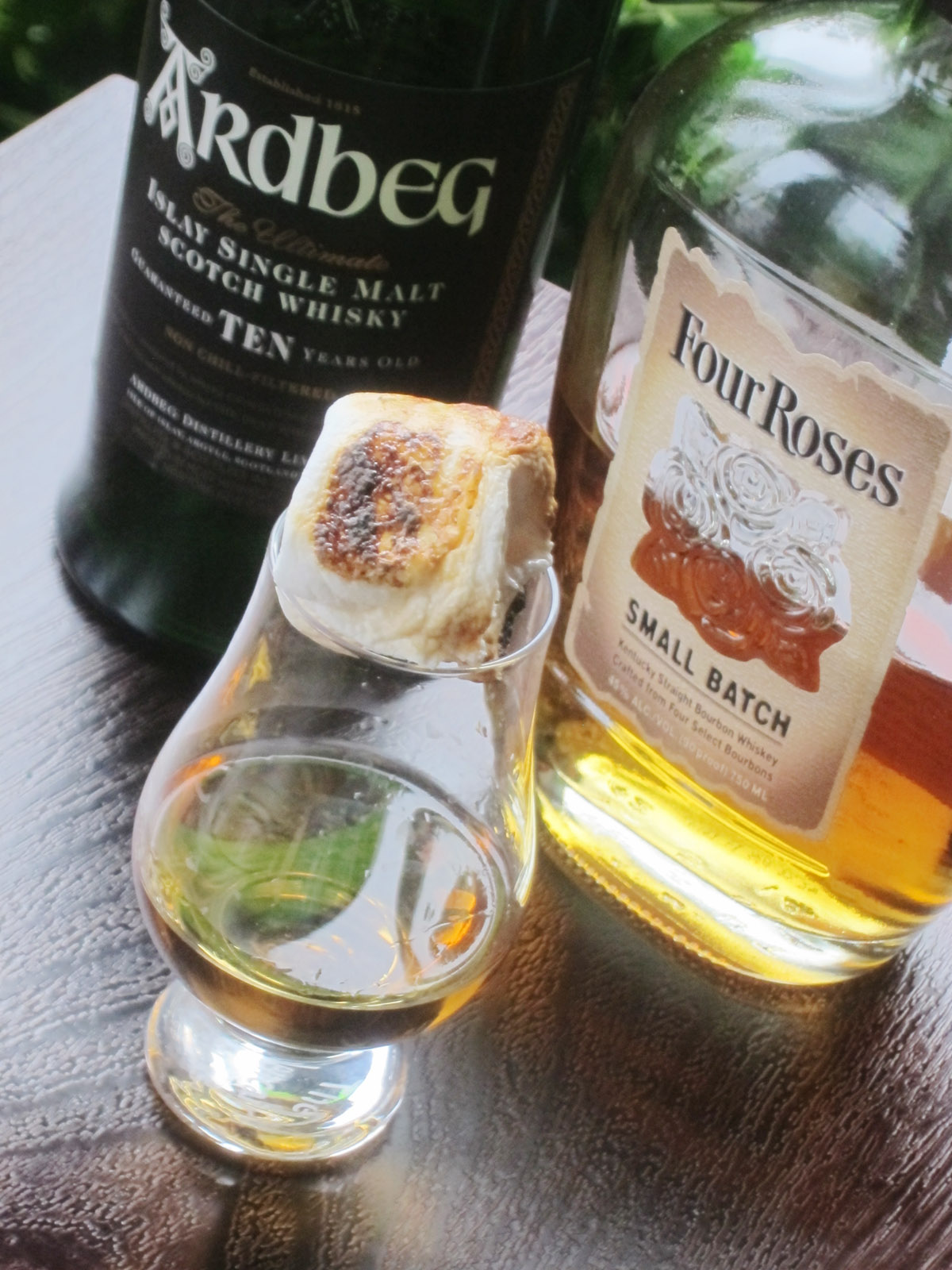 Either of these spirits will go nicely with the toasty marshmallow. Scotch, especially one like Ardbeg is full of peaty aromas and taste, yet all scotches through the aging process have at least a hint of sweetness that brings out the sweet characteristics in the marshmallow. I love drinking Ardbeg on a cold fall or winter's night sitting in front of the fireplace. The smell of the logs burning and the smell from my glass play off each other wonderfully. It is the same concept with the marshmallow, all toasty.
The Bourbon is also sweet, but has the characteristic whisky burn, which also pairs well with a caramelized marshmallow, the smokiness from the fire that toasted the marshmallow and the burn of the Bourbon itself offsets the sweetness, so it isn't overwhelming.
Whisky goes very well with anything that has been smoked, like chocolate with smoked almonds for example, or a smoky cheese like Maplewood smoked cheddar. This is why it pairs so well with a toasty marshmallow.
Enjoy Responsibly! To Your Health!
A note on bourbon and GMO corn: since in order to be called bourbon 51% of the grain used to make the mash must be corn and most bourbon distillers use GMO corn. There are two brands that use non-GMO corn that I am aware of, Four Roses (which is what I have) and Wild Turkey.
On the other hand single malt scotches (not blended) must be made with 100% barley mash, so no GMO worries there.

The Witch's Brew: Toasted Marshmallow Paired with Whisky
Ever wondered what drink pairs best with a toasted marshmallow? Look no further than whisky! The characteristic whisky burn pairs perfectly with the fiery element of the toasted marshmallow. You can go American or Scottish in this pairing: American bourbon with its sweetness or the characteristic peatiness of many single malt scotches to bring out different aspects of taste and flavor, all delicious. Cheers! Slàinte!
Author:
The Yum Queen (Jenn Campus)
Ingredients
Marshmallaw
Bourbon or Scotch
Instructions
Toast the marshmallow
Pour a glass of your favorite bourbon or scotch
Enjoy!