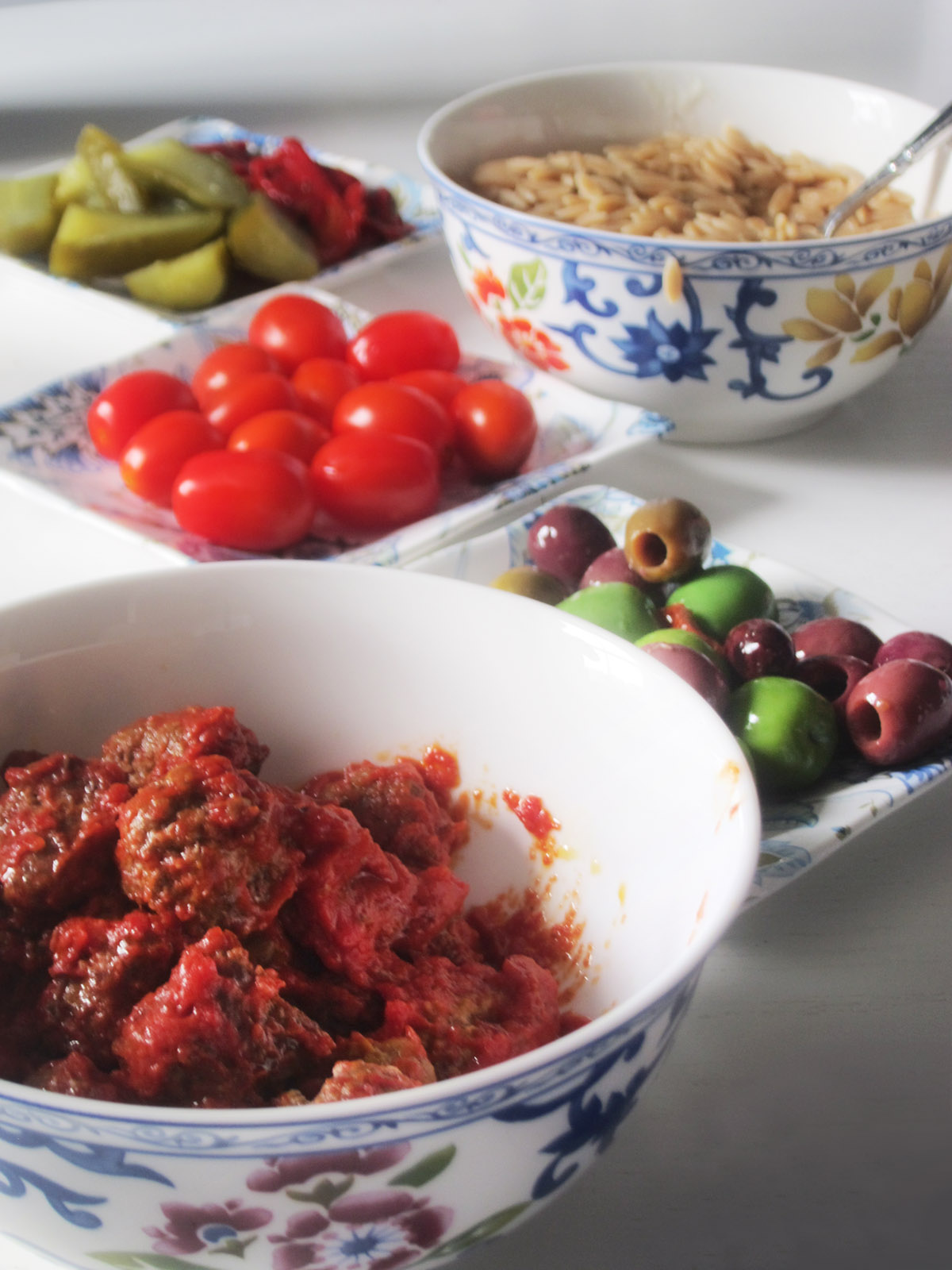 Sometimes what you don't know helps you enjoy things you might have a mental block towards or in the case of this post, unknowingly create something delicious in the kitchen, something you never would have thought to try. Something that is slightly funky and pretty weird. When you taste it, the flavor is really good yet hard to place, and you are trying to figure out why it tastes so good and unexpected even though you know (or thought so anyway!) what you put in it. This happened to me this past week; totally unawares I created a delicious recipe through happenchance.
We were traveling and when we are on the road we always rent an apartment. Traveling with a family of 4 humans and 2 dogs can be challenging and renting apartments allows all of us to be together, comfortably. I also like having the option to cook meals. Not only does it cut way down on costs, but it allows me to shop at local markets and create meals based on what is available in a new place, which is something I really enjoy.
The day after we get where we are going we go out shopping for essentials, safe and natural cleaning products (for the humans and the house) and food, which always consists of items for breakfast like bread, cheeses, butter, yogurt, milk, eggs, fruit, as well as hummus, salad veggies, olives and cold cuts for quick antipasto dinners or lunches and then pasta or rice, some organic hot dogs or sausages and whatever we can find for local/organic/grassfed/humanely raised meat for dinners here and there.
You never know what you are going to find at the apartment in terms of things like olive oil, vinegar and spices, some places have basic essentials, and others have bare cabinets. This place was the latter situation. Luckily my mom is close and she was bringing us these kinds of things the next day. But we had to make do for the first night with no spices and so I was getting creative.
We bought some grassfed ground lamb and so I thought about making some lamb meatballs in sauce to go along with cherry tomatoes, olives, pickles and hummus that we got. I picked up a few cans of tomato paste because we were going to make pizza the next night and I often make a sauce for meatballs out of tomato paste and yogurt, usually with spices, but this time obviously without.
I pan-cooked the plain meatballs in some refined coconut oil (doesn't taste like coconuts) that I also got at the store and when they were cooked I added some tomato paste, a little ketchup (because there are spices in there!) and some yogurt.
Everyone loved the meatballs. There was sweetness to them giving them a bit of an agrodolce (Italian for "sweet and sour") taste that I wasn't really expecting. However they were declared the "best meatballs" ever by my husband who was surprised there were no spices involved.
The next morning we had yogurt for breakfast and realized upon tasting it that we had purchased Stonyfield's French Vanilla yogurt, instead of our regular plain yogurt -and so that is what gave the meatballs their crazy, but delicious flavor the night before!!! I don't usually buy Stonyfield, but the brands I normally get Maple Hill Creamery or Butterworks Farms weren't available at the store where we shopped, so I focused instead on getting organic whole milk yogurt and the French Vanilla must have been the only whole milk version there and the picture on the label at a quick glance was just plain looking white yogurt in a bowl, so I just grabbed! Interestingly enough, Roberto also had grabbed a carton of the same, using a similar strategy. Both of us were duped!
But the meatballs were such a hit, Roberto asked me to make them again, using the French Vanilla yogurt. The second time I had spices, so I added some to the mixture as well and that is the recipe I am going to share with you!
Serves 4 as an appetizer or served as a meal with rice or orzo. I made mine as a wrap using 4 meatballs stuffed inside a gluten free wrap smeared with hummus and adding sliced cucumbers, roasted red peppers and pickles.
UP THE YUM: I hope you try them and are adventurous enough to try it with the accidental yogurt we used, even though you don't have the benefit of not knowing what hit you! If you can't handle it, use plain yogurt and you'll have a version of what I typically make, which is wonderful in its own right.
FEED YOUR CHAKRAS: Root

Spiced Lamb Meatballs in Tomato Sauce with Vanilla Aromas
Crazy delicious meatballs created by an unintentional kitchen experiment. Sometimes what you don't know makes something delicious! A great appetizer, or a delicious meal served as a wrap or over rice or orzo!
Author:
The Yum Queen (Jenn Campus)
Ingredients
¾ lb. ground lamb
1 TBS. ground turmeric
1 TBS. sweet paprika
pinch of salt
pinch of pepper
1 TBS. refined coconut oil
2 TBS. tomato paste
generous squirt of Annie's Naturals Organic Ketchup
2 TBS. Stonyfield French Vanilla Yogurt (or plain if you can't handle it!)
Instructions
In a bowl mix together the ground meat (you could use any kind of ground meat you can find) and spices.
Then heat up the coconut oil in a medium sized skillet over medium heat.
Roll meat mixture into small balls, I usually make mine about the size of a tablespoon and drop them into the skillet with the hot oil and brown in all sides.
Once cooked, add the tomato paste, ketchup and yogurt stir to mix together and coat the meatballs in the sauce.
Serve hot.