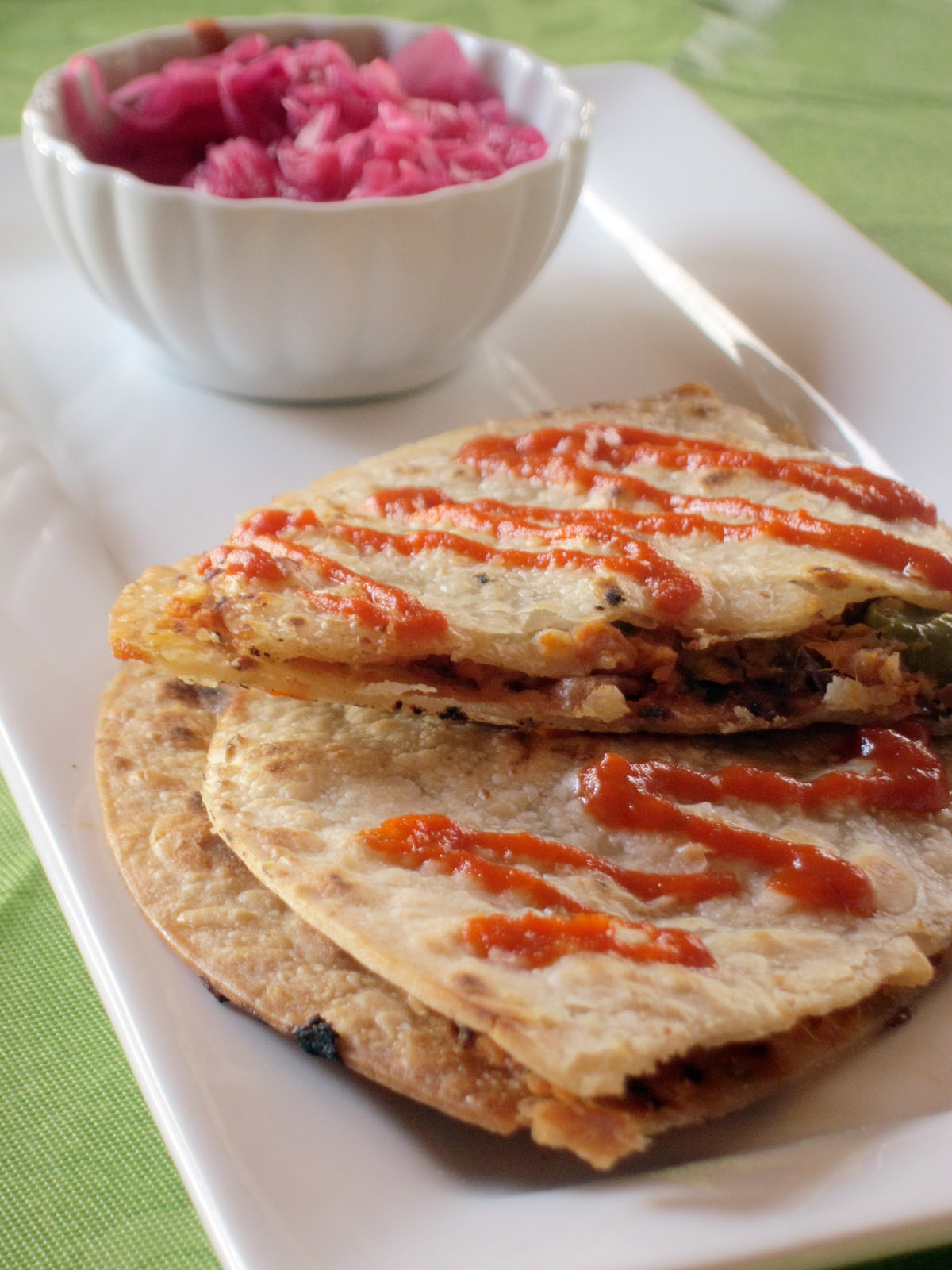 Eating certain foods can strike up fond memories and I made these quesadillas to bring me back to the sun and surf of Saint Augustine, Florida and the fabulous weekly farmers market there. I made these a few weeks before we made our annual trip back and it was the perfect lunch to get me in the mood to trade in freezing temperatures and snow for blue skies and palm trees!
There are a lot of flavorful layers in these quesadillas, filled with black beans, sweet potatoes, tangy cheese and spicy jalapenos, they are sure to warm up your taste buds and get you ready for warmer weather too!
When we lived in Saint Augustine, every Saturday we had a tradition. After waking up, we'd get dressed and head out to the Farmers Market. Saint Augustine has a wonderful, year-round Farmers Market that includes a variety of vendors selling produce, cheeses, olives, breads, meat, coffee roasters and locally inspired crafts as well as some prepared foods.
Each week on the way out of the market, we would stop at the coffee roasters for coffee and then to the food vendor who made the most delicious black bean and sweet potato burritos. We would load up our goodies (in coolers during the really hot months) into our car and then drive to the beach. Being Florida residents, we always had beach chairs and towels in the trunk of our car so we were ready anytime we felt like going to the beach.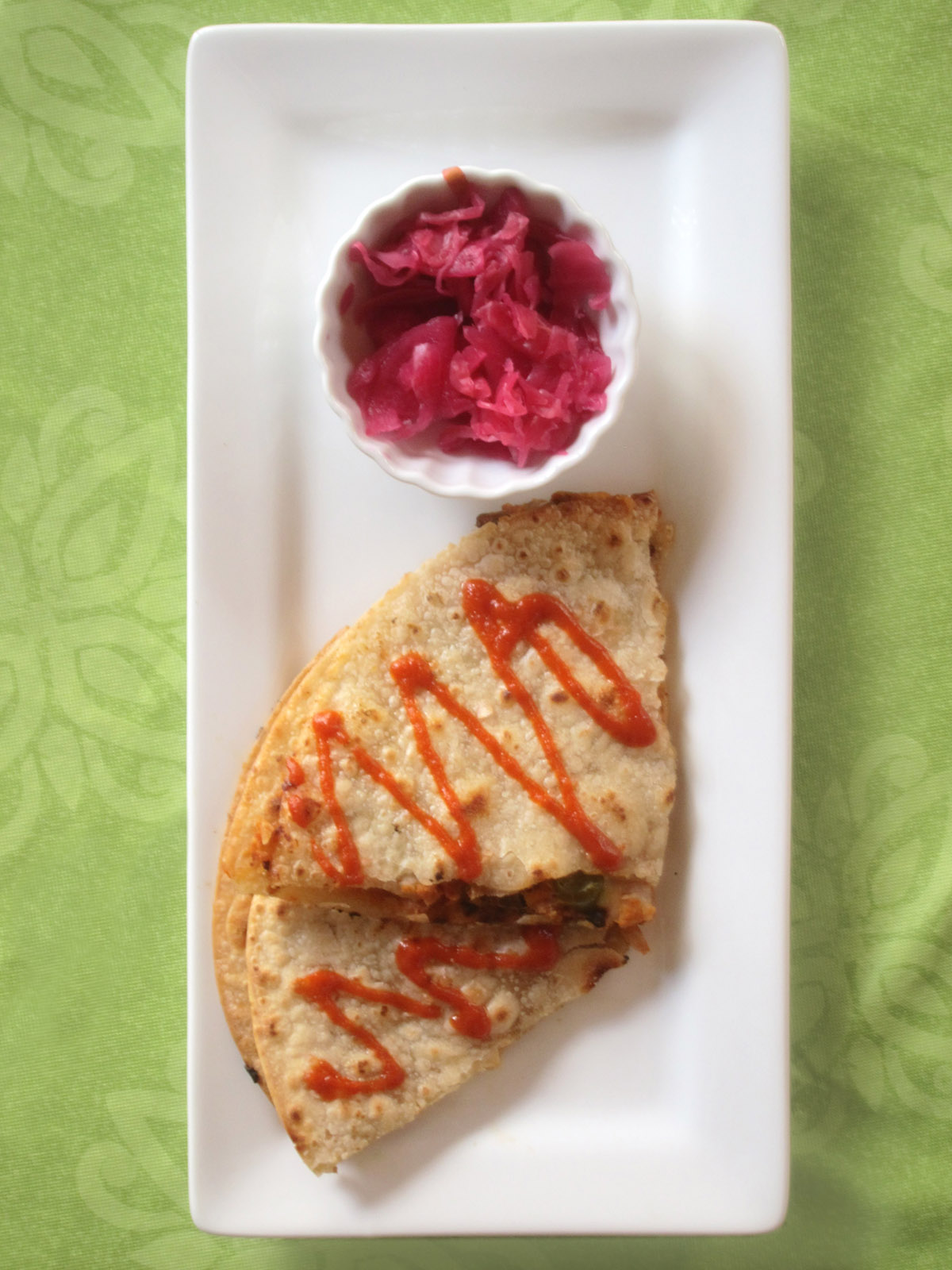 We would park and take our breakfast out on the sand and enjoy it while listening to the waves and the sea gulls wheeling up above our heads in the sky. As Listen, Listen one of my daughter's favorite storybooks tells me, seagulls say "ack! ack!" and they have an uncanny sense for when anyone has brought any sort of edibles onto the beach. They keep an eye on you while you eat, hoping you'll save them a bite, which we usually do, unless we are dealing with a rogue seagull that tries to steal it out of our hands! Those seagulls don't get any treats!
It has been so fun taking Alba to the beach in Saint Augustine and watching her joy as she sees the sea gulls from her book in real life, chasing them all over! I have such wonderful memories of times past here in Saint Augustine and now it is time to make some new Saint Augustine memories! What are your fond food memories?
UP THE YUM: Add pickled jalapenos if you like it hot! The vinegary brine and the spiciness of the peppers add another dimension to these delicious quesadillas!

Sweet Potato and Black Bean Quesadillas
Eating certain foods can strike up fond memories and these quesadillas bring me back to Saint Augustine, Florida and the weekly farmers market. There are a lot of flavorful layers in these quesadillas, filled with black beans, sweet potatoes, tangy cheese and spicy jalapenos, they are sure to your excite your taste buds!
Author:
The Yum Queen (Jenn Campus)
Ingredients
1 sweet potato, boiled
1 cup cooked black beans
¼ cup salsa
½ tsp. salt
1 tsp. cumin
1 tsp. coriander
1 tsp. paprika
½ cup shredded cheese (I like using Grafton Village VT Maple Smoked Cheddar)
jalapenos to taste
4 brown rice tortillas (use any kind of tortillas you like!)
sriracha sauce for topping
Instructions
Preheat the oven to 400 F. Heat up a cast iron skillet over high heat.
While pan is heating up roughly mash together the sweet potato, black beans, salsa, salt and spices.
When the pan is searing hot, warm the tortillas on each side, about 30 seconds each side.
Place 2 tortillas on a cookie sheet. Spread half of the black bean mixture on one tortilla and the other half on the other. Divide the cheese evenly on each quesadilla and top with jalapenos, if using. Place the second tortilla on top of each quesadilla and press down.
Bake in the oven for 10 minutes.
To serve, cut into triangles. I like serving my quesadillas with a side of fermented veggies: pictured is daikon radish and cabbage with ginger.