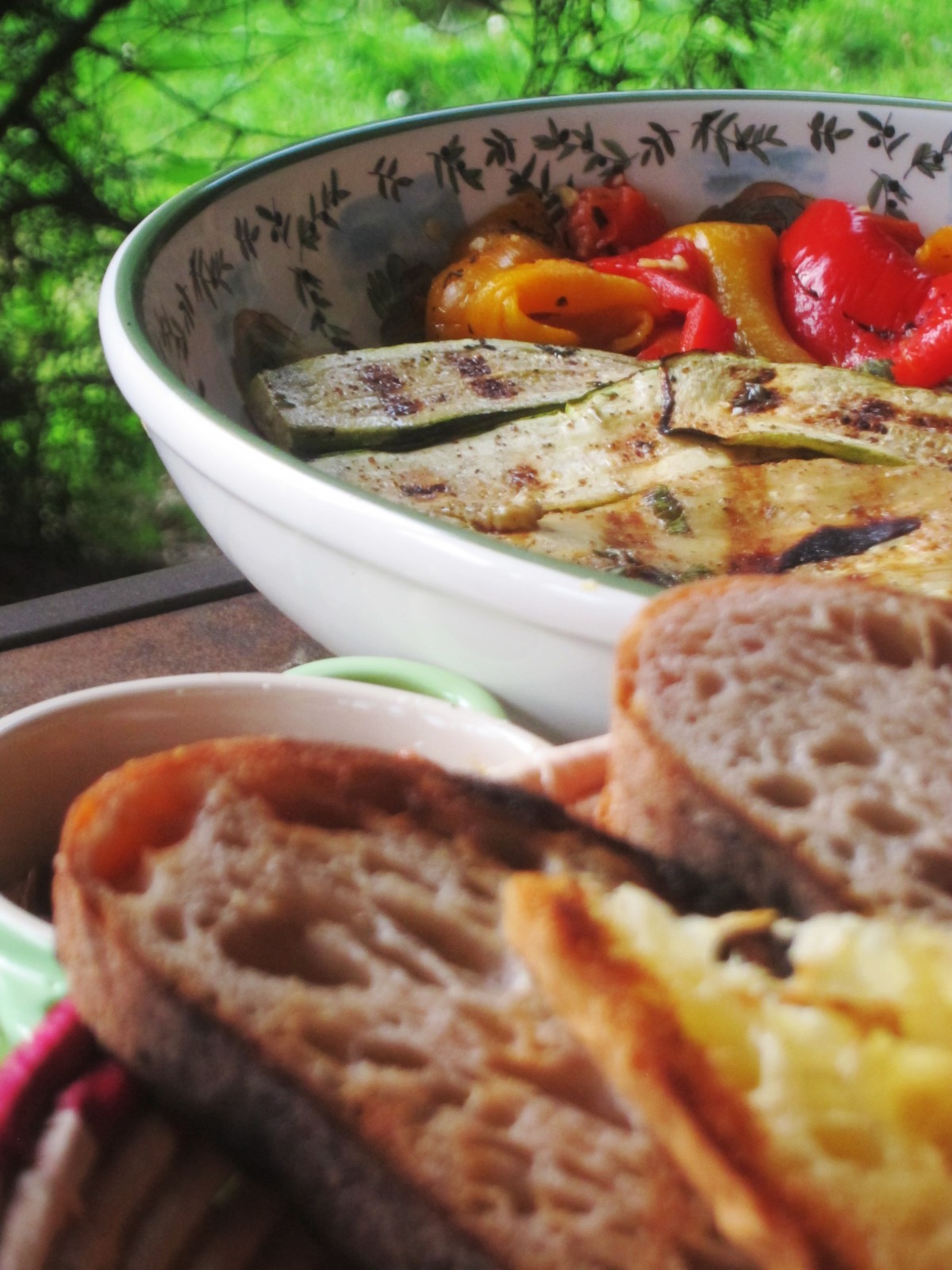 I almost never wrote a post about this delicious, quick and easy summer dinner that finds its way to our table at least twice a month, because it didn't seem all that fancy.
The real recipe here is my delicious marinade that turned an eggplant hater into its greatest fan, but more about that later in the post. This is exactly the sort of dish I love writing about. One of the reasons that I started this new blog was to share with you, my lovely readers easy yet exploding with flavor recipes to prepare; humble food that is elevated to a high level of taste by adding a few key ingredients, or in this case implementing a specific cooking technique and using supporting ingredients to highlight the natural flavor of a main ingredient.
The grill has become my favorite way to cook this summer and even though we've had the grill for over 5 years now, I never really took full advantage of it, what a waste! There is definitely something about food cooked on an open flame that adds another layer of flavor to whatever you are cooking, even humble vegetables. By marinating and grilling them you bring them to another level, in the way that by adding salt you bring out the natural flavor of what you are seasoning, by grilling food, the natural sweetness of the vegetable emerges.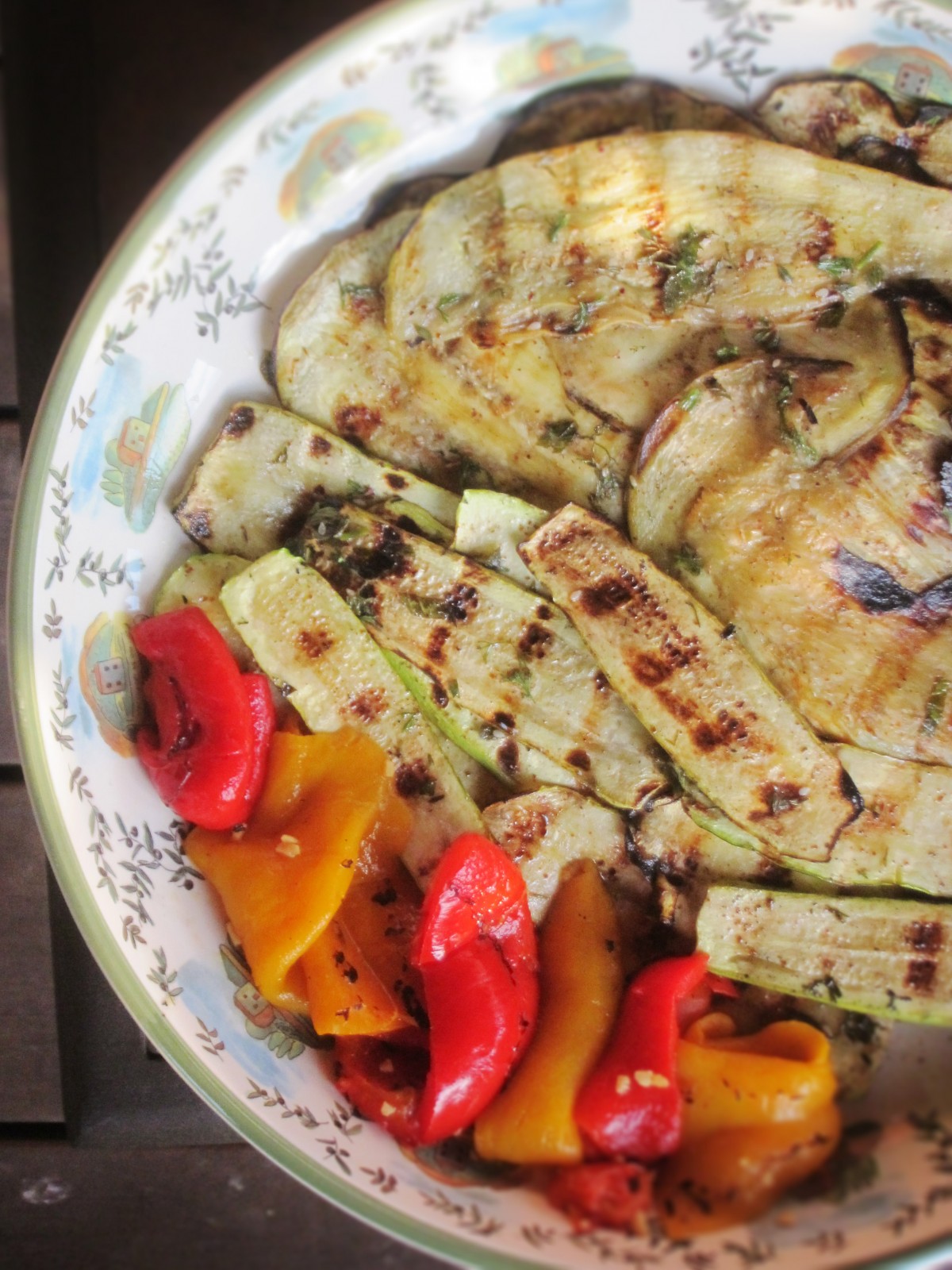 This is where my special marinade comes into play. I like to amplify the natural sweetness of the vegetables by adding sweet elements to my marinade, like sherry wine vinegar and honey. I also add spicy herbs, like mint and oregano and some acidity from lemon juice and za'atar spice to counter the sweet tastes, this creates a flavor that is well rounded but unique.
And here's the story of eggplant… I grilled some vegetables this way recently when hosting a lunch for a dear friend and her father. After his second helping of eggplant grilled this way, he asked me what kind of vegetable it was, thinking it was squash. When I told him it was eggplant, he was surprised because he swore he didn't like eggplant. After trying it grilled this way he realized eggplant can be delicious, it just needs to be cooked well. Eggplant is a wonderful vegetable to elevate flavors. Because it is rather bland and kind of earthy and because its texture is so spongy it really takes in the flavor of whatever you marinate it with or cook it with and it sucks up a lot of liquid.
Here is a little grilled vegetable primer, so you can perfectly grill your own vegetables:
1) Pick vegetables that are of similar size and shape so that they cook in the same amount of time. I prefer to grill vegetables that take a short amount of time to cook.
Here are some vegetables that grill fast and take similar conditions, in terms of heat to cook at the same time:
Eggplant
Zucchini
Yellow (Summer) Squash
Bell Peppers
Jalapeno Peppers
Portabella Mushroom
Large Onions
Asparagus
2) Slice vegetables as thin as possible (about ¼ inch), while keeping them in long and/or wide strips so they don't fall through the grill grates when turning them.
By choosing similar sized vegetables, and cutting them so they remain large, you don't need any special equipment like grill baskets, skewers or yucky foil.
3) Marinate them. Of course after seeing my marinade recipe, not marinating won't even cross your mind! But vegetables can dry out quickly and the marinade helps to keep them from burning.
4) Watch the flames and know your grill's temperment! Keep your eye on the grill and veggies while they are cooking, keep the temperature low enough so that the veggies cook, but don't char. For my grill the sweet spot is between 350-400 degrees.
5) Lids off! I keep my grill lid off most of the grilling time so I can keep a close eye and to make sure it doesn't get too hot inside which might burn the vegetables. Sometimes I give them a minute or two with a closed lid, but if veggies are sliced super thin, they cook fast enough without the need of lids.
6) Get a good grill spatula – one with a long handle and with a long and wide spatula so you can get a good grip on your veggies when you turn them, so they don't fall through the grates…and flip 'em fast!
Quick Tip: Denser vegetables take longer to cook and some will benefit from being par-boiled before grilling, like potatoes. With denser veggies, cooking them slowly over a lower heat will prevent them from charring on the outside and remaining raw on the inside. Low and slow cooks them all the way through!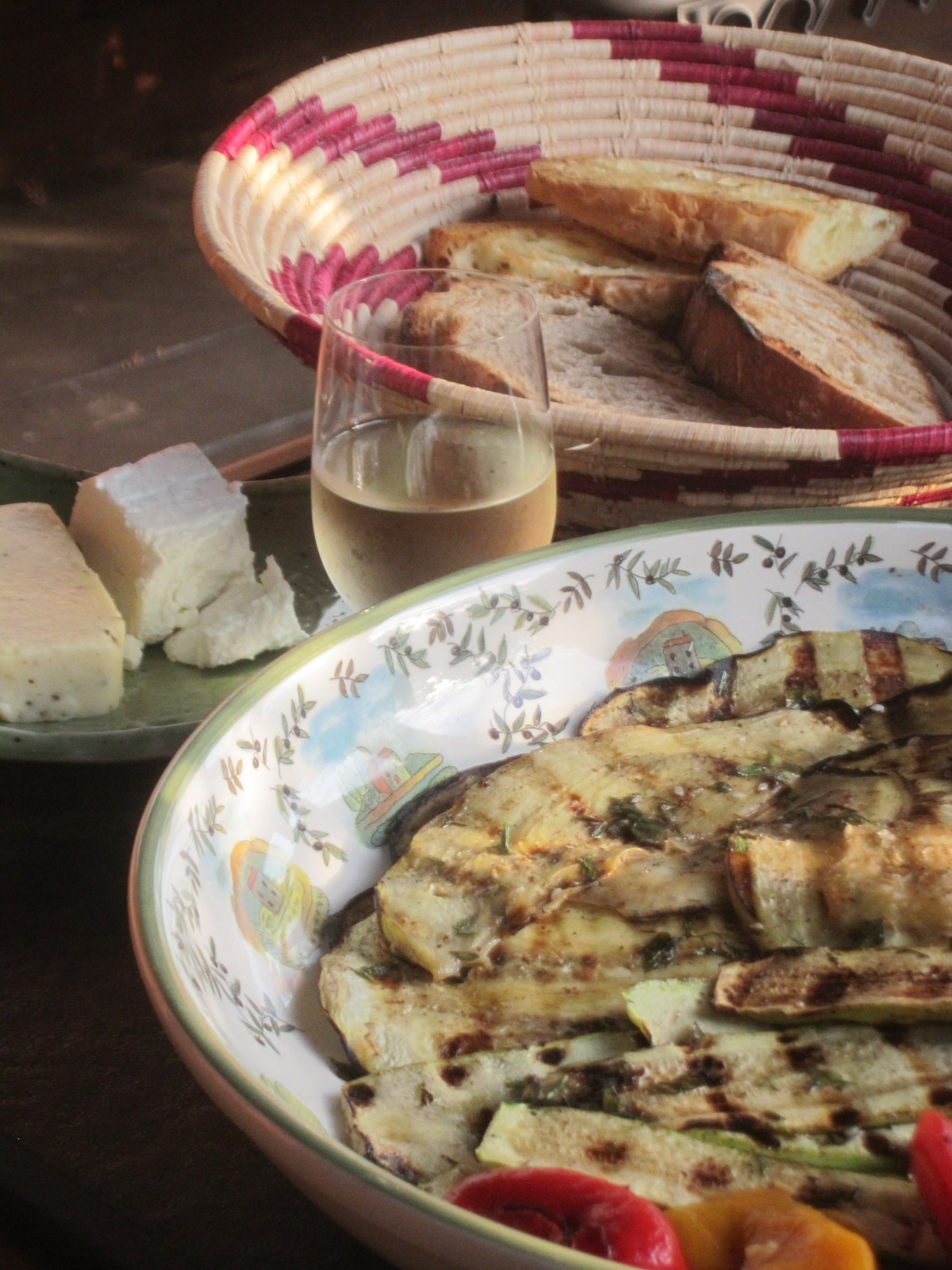 It might feel like grilling veggies is a serious challenge, but it is actually easier in many ways than grilling meat, because you don't have to worry about making sure it is cooked through or worry about various people's preferences on how their meat is cooked.
By the way this isn't a side dish guys, this is the main course! Serve these vegetables with cheese, crusty bread and a nice crisp glass of white wine and you have a meal that hits all the right buttons for summer!
UP THE YUM: Allow vegetables to marinate for about 20-30 minutes before grilling so that the marinade can permeate.

Perfectly Grilled Summer Vegetables with Sherry Vinegar and Honey Marinade
Fire up the grill! You will want to grill vegetables all the time with this recipe for a sweet and spicy marinade. Grilling vegetables have never been easier with the help of my quick vegetable grilling primer!
Author:
The Yum Queen (Jenn Campus)
Ingredients
For Marinade:
¼ cup sherry vinegar
⅓ cup olive oil
¼ cup lemon juice
2 teaspoons honey
2 TBS fresh mint
2 TBS fresh cilantro
1 TBS Za'atar
1 teaspoon fresh oregano


1 large eggplant
4 small zucchini
4 small yellow squash
4 bell peppers
Instructions
Whisk ingredients together in a bowl and set aside while you slice the vegetables. Slice eggplant, zucchini, and summer squash ¼ inch thick, lengthwise. Cut the bell peppers in half.
Preheat grill and wait until it reaches 350 F. While grill is preheating, using a marinade brush, brush both sides of each vegetable slice and place in a dish to take out to the grill.
Once the grill is ready, place as many vegetables as you can on the grill. Keep them orderly so it is easy to flip several slices at the same time. Generally I can only flip one large eggplant slice at a time, and about 3 slices of squash or smaller slices of eggplant. Reserve any marinade in the dish.
Grill on the first side for about 2-3 minutes, then flip. Grill on the second side for another 2-3 minutes. Sometimes, the thinner slices are finished by now with lovely grill marks on both sides. If not flip once more for another minute or two. If there are remaining vegetables, repeat the process for these.
Place vegetables on a serving platter and pour the remaining marinade on top.
Can be served hot or cold.