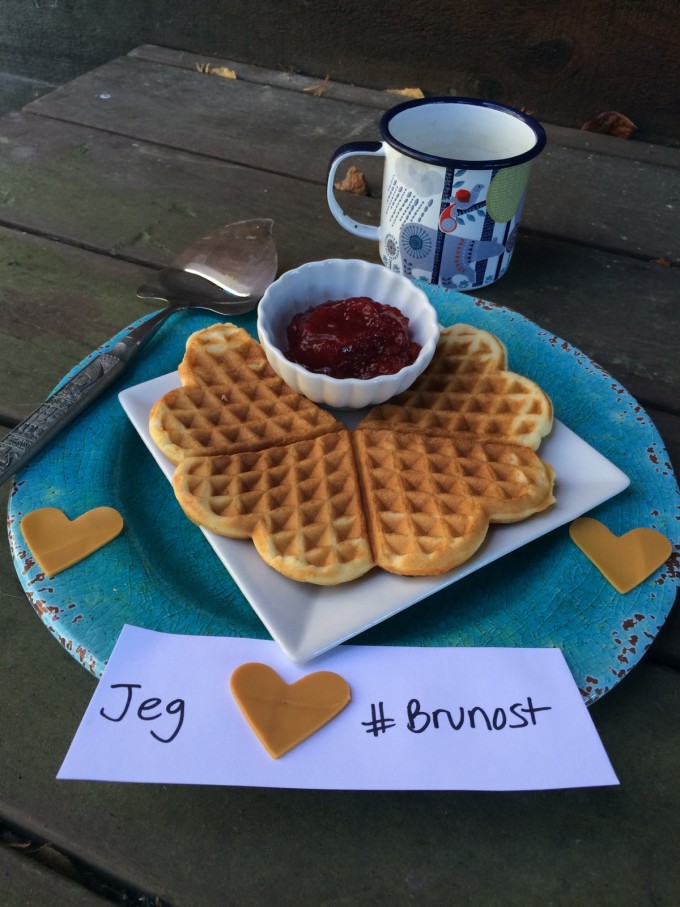 Disclaimer: This post is NOT SPONSORED by TINE or any other brand. These are my own personal thoughts. I believe my readers should be introduced to wonderful products. PERIOD. If I love a product, I will share it with you, if I don't I won't. It's that simple.
This past weekend I did a little shout out on most of my social media outlets to TINE, a food brand in Norway that makes among many other things, my most favorite cheese in the world – brunost. Brunost is a traditional food of the Norwegian diet.
Many people were curious about it and wanted to know more.
What is it made of? Why is it brown? How do you eat it?
Since I love this cheese so much, I decided to post about it here too, answer some of those questions and give more information. Like I told TINE, I have been a brand ambassador for them, before it was even a thing…over 20 years!
How did I discover this delicious, creamy and unique cheese?
Well, in between high school and college I was an exchange student in Norway (so yes, if you do the math, my age will be revealed!). I fell in love with brunost at first bite and I ate it every single day, twice a day – breakfast and lunch, for my entire yearlong stay. I hear that you either love it or hate it, but I can't imagine anyone hating it!
Also known as gjetost in the US under the name "Ski Queen" you can find brunost in some grocery chains around the country, especially wherever they display gourmet cheeses. Look for the red packaging.
Since it has been available in the US, I have been making it a weekly Sunday tradition to enjoy brunost with waffles for breakfast, even though traditionally waffles are served as a snack in Norway.
Locally, in Vermont, I can find it at Healthy Living & Hannafords . But this was not always the case.
When I returned from my stay in Norway it was not available in the US. So when Norwegian friends would come to visit, they smuggled it over to me in their suitcases and I would hoard it like a little dragon with a particularly precious treasure. I would introduce it, slice by slice to family and friends as often as I could because I knew it was unlike anything they had ever tried before! I am happy to say that I never had an experience of someone NOT liking it!
So how is it made? Why is it brown and what does it taste like?
Brunost is a sweet cheese, but since it is a goat dairy product ("gjet" = goat, "ost"=cheese, "brun"=brown) it also has a bit of tang to break through the sweet.
Brunost is made from whey and milk. They are slowly reduced over many hours, traditionally on a wood-burning stove, until the water evaporates and the natural sugars caramelize. So when you think of it, brunost is like caramel cheese, which lends it sweetness and color. Texture wise, it is a bit like fudge and I have heard people describe it as a salty caramel that is made with goat's milk, which if you have had cajeta, sounds pretty awesome! Its popularity in Norway and other Scandinavian counties is similar to the American love of peanut butter.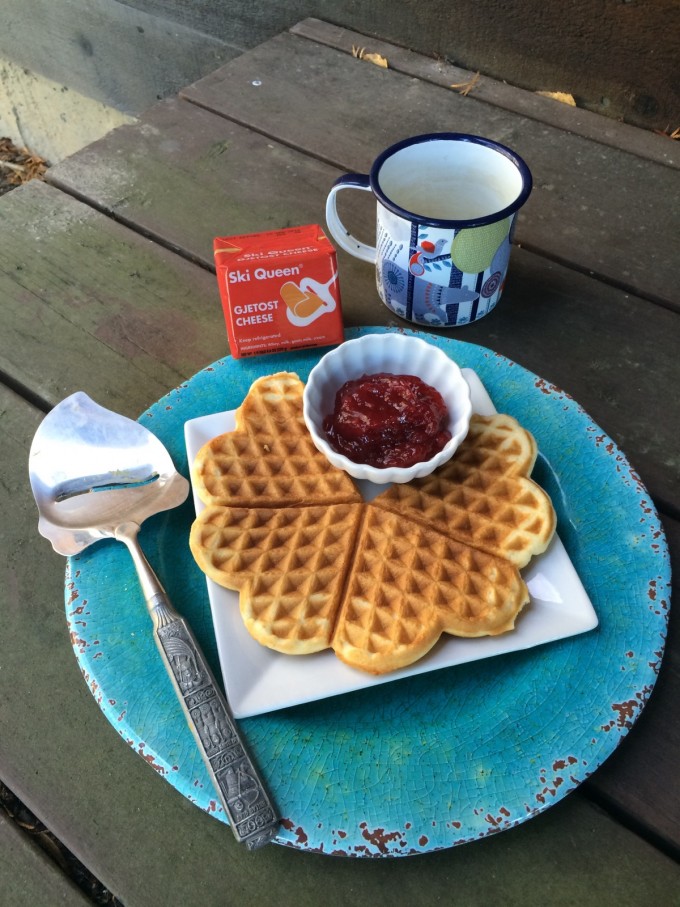 My favorite way to enjoy brunost is in the traditional ways:
1. On bread
Schmear with butter and lay slices of brunost on top
2. With waffles
(I use King Arthur Flour Gluten Free Pancake Mix,
– it is by far the best!)
If the waffles are heart shaped, which is how they come in Norway, even better. Topped with a little schmear of jam (raspberry and strawberry are the most popular, but I also enjoy lingonberry or currant jam as well)
3. On super thin crunchy crackers
Similar to the way Norwegians eat it on flatbrød, Norwegian flatbread, or crackers
4. Melted into sauces or stews
 Goes especially well with venison or other game meats.
5. With grapes, especially red
This is something I discovered by accident one day and I am glad I did.
I have seen other people pair it with smoked salmon, salami or other cured meats. I am a bit of a traditionalist when it comes to brunost eating, so I haven't ventured there, but I am happy to see other people enjoying it – that has been my whole point of sharing it for all these years.
Brunost is best-enjoyed sliced ultra thin, with a special cheese knife. That was one of the few items I brought home with my from Norway and it is still one of my prized possessions. I found this one on Etsy which is very similar, although the handle of mine is decorated with Vikings (so of course much cooler)!
My daughter, Alba on the other hand prefers eating her brunost in chunks or molded into animal shapes!
The upcoming holiday season is a wonderful time to explore this new and festive cheese, to share with family and friends!
UP THE YUM: Find out your favorite way to eat brunost!