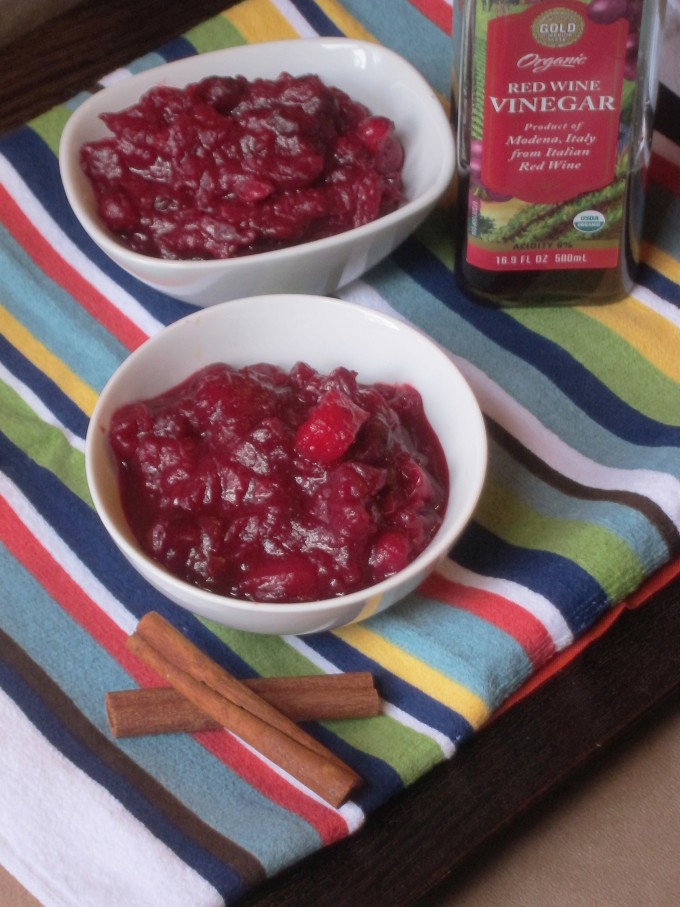 Do you want to add a little pizazz to your cranberry sauce? Hoping to get a head start on Thanksgiving prep, but don't have a lot of time? Making these quick, easy and tasty cranberry recipes ahead of time will save you time on the big day and will impress your guests! The best part is they only take 20 minutes to make.
I got started on Thanksgiving prep this weekend. We are having dinner for the family this year and although Thanksgiving is probably my favorite holiday, I didn't want to be stuck in the kitchen on the big day.
I love Thanksgiving because it is a harvest festival that we still celebrate! The holiday tables are laden with seasonal dishes and it is a true celebration of abundance and thanks. I am big on being thankful to nature for providing the food we eat everyday, and also to the farmers and harvesters who bring our food from field to plate. Take time this Thanksgiving to remember the farmers, the sun, the rain and the fertile earth for providing us with the delicious cornucopia of food that we feast upon.
If you feel moved to do so, you might want to offer some of your Thanksgiving meal to these elements, by putting some of the feast aside for them, and then burying it in the earth after the meal is over. Or perhaps donating to your local food bank feels more appropriate. Not hosting Thanksgiving this year? Then maybe whip up these cranberry sauce recipes and bring them as a hostess gift.
These cranberry dishes were among what I made over the weekend (if you want to see more of what I made, follow me on Instagram and you can see all the pictures).
I have been making my own cranberry sauce for a long time and each time I make them a little bit different. Lately I have been on a real chutney kick, because I love the sweet-savory flavor combination. So I decided to make cranberry chutney this year as well as a sweet version, which includes apples.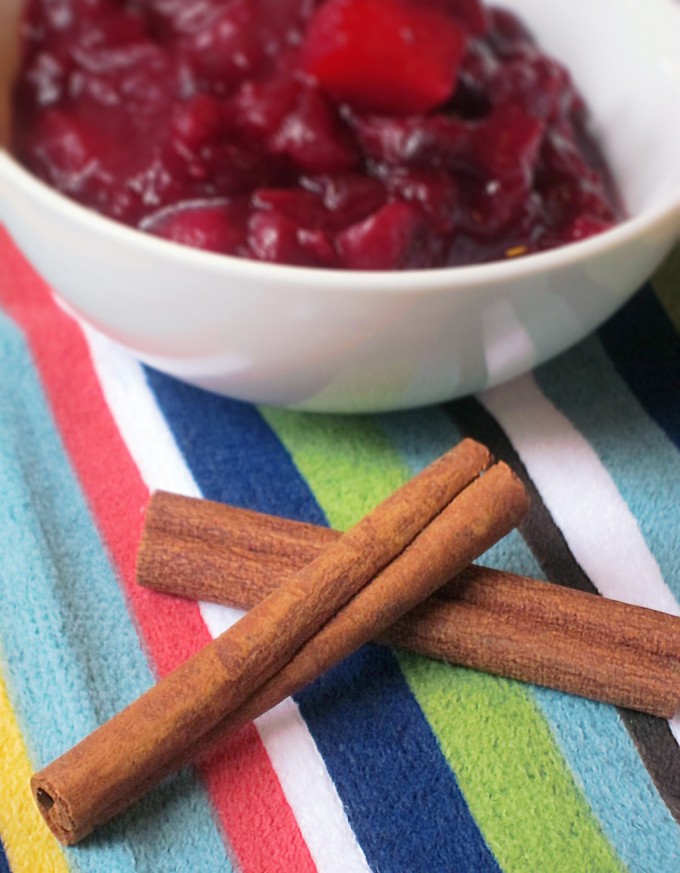 For my sweet cranberry sauces I always use orange juice as the liquid component (however a few years ago I also added some red wine). I find the sweetness of the orange helps to cut down the tartness of the cranberries. This year I also added a small apple, in addition to my usual combination of spices: cinnamon, clove and vanilla extract. Cinnamon has been used to evoke feelings of comfort and coziness, while cloves are said to bring people together as well as luck and prosperity. No wonder these spices end up in so many of our holiday dishes.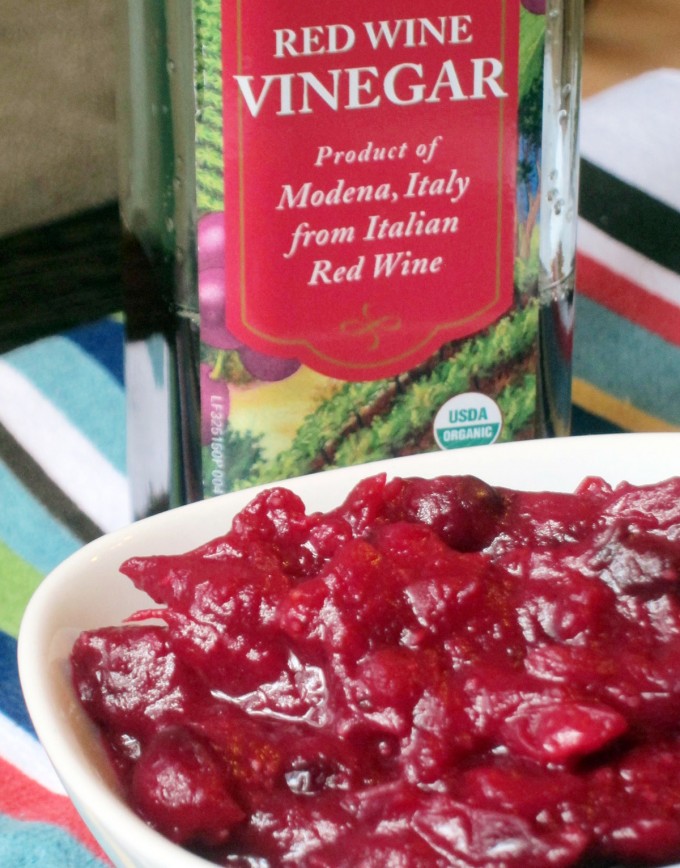 For the chutney, I decided to keep it simple, since I am not sure how adventurous my guests are going to be, and went with the classic flavors of ginger, shallots and red wine vinegar.
The end result is that I really love both. The sweet is probably a bit more what everyone is used to and will likely be a big hit served with Thanksgiving dinner. The chutney is going to be the perfect condiment for your leftover turkey sandwiches! So my advice is to make them both! I cooked mine side by side on the stovetop and it took about 20 minutes from start to finish.
Making your own cranberries for Thanksgiving is easy and fun, and it always impresses your guests that you took that little bit of extra time to make it fresh! So whip them up tonight! I promise you won't regret it.
UP THE YUM: Create your own signature cranberry sauce by experimenting with the flavors! Some great spices to add to cranberries are cinnamon, clove, nutmeg, ginger, cardamom, citrus zest, cherry juice and red wine. For savory, try flavors like sherry vinegar, balsamic vinegar and black pepper.
FEED YOUR CHAKRAS: Red is associated with the root chakra and Thanksgiving plays into the key correspondence of the root chakra – having all your basic needs provided for. Creating a large holiday meal is a symbol for abundance, meaning those basic needs have been met.

Fresh Cranberry Sauce with Apples and Cinnamon
Sweet cranberry sauce with apples, cinnamon and orange juice
Author:
The Yum Queen (Jenn Campus)
Ingredients
12 oz. fresh whole cranberries
½ cup orange juice
1 large apple , cut into small bite sized pieces
¼ cup of coconut sugar (or brown sugar)
¼ cup pure maple syrup
1 teaspoon of cinnamon
pinch of ground cloves
1 teaspoon pure vanilla extract
Instructions
In a medium saucepan add all your ingredients. Bring to a boil over medium heat and let simmer for about 15 minutes. You know the sauce is finished when the cranberries have burst and the consistency of the sauce is to your liking. Taste the sauce and add more maple if you desire more sweetness.
Keeps in the refrigerator for about a week
Fresh Cranberry Chutney
Classic flavors of ginger, shallots and red wine vinegar flavor this delicious holiday chutney
Author:
The Yum Queen (Jenn Campus)
Cuisine:
American, Anglo-Indian
Ingredients
1 TBS olive oil
1 small shallot, minced
1 TBS fresh grated ginger
12 oz. fresh whole cranberries
½ cup coconut sugar (or brown sugar)
¼ cup red wine vinegar
½ cup water
salt & pepper to taste
Instructions
In a medium saucepan, heat the olive oil over medium heat. Add the shallots and ginger and cook until shallots are translucent, about 2-3 minutes, stirring occasionally. Add the fresh cranberries, coconut sugar, red wine vinegar, water and salt & pepper. Bring mixture to a boil and then simmer for about 15 minutes. You know the sauce is finished when the cranberries have burst and the consistency of the sauce is to your liking. Taste the sauce and add more vinegar of it is too sweet, or more coconut sugar if it is too tangy.
Keeps in the refrigerator for about 7-10 days