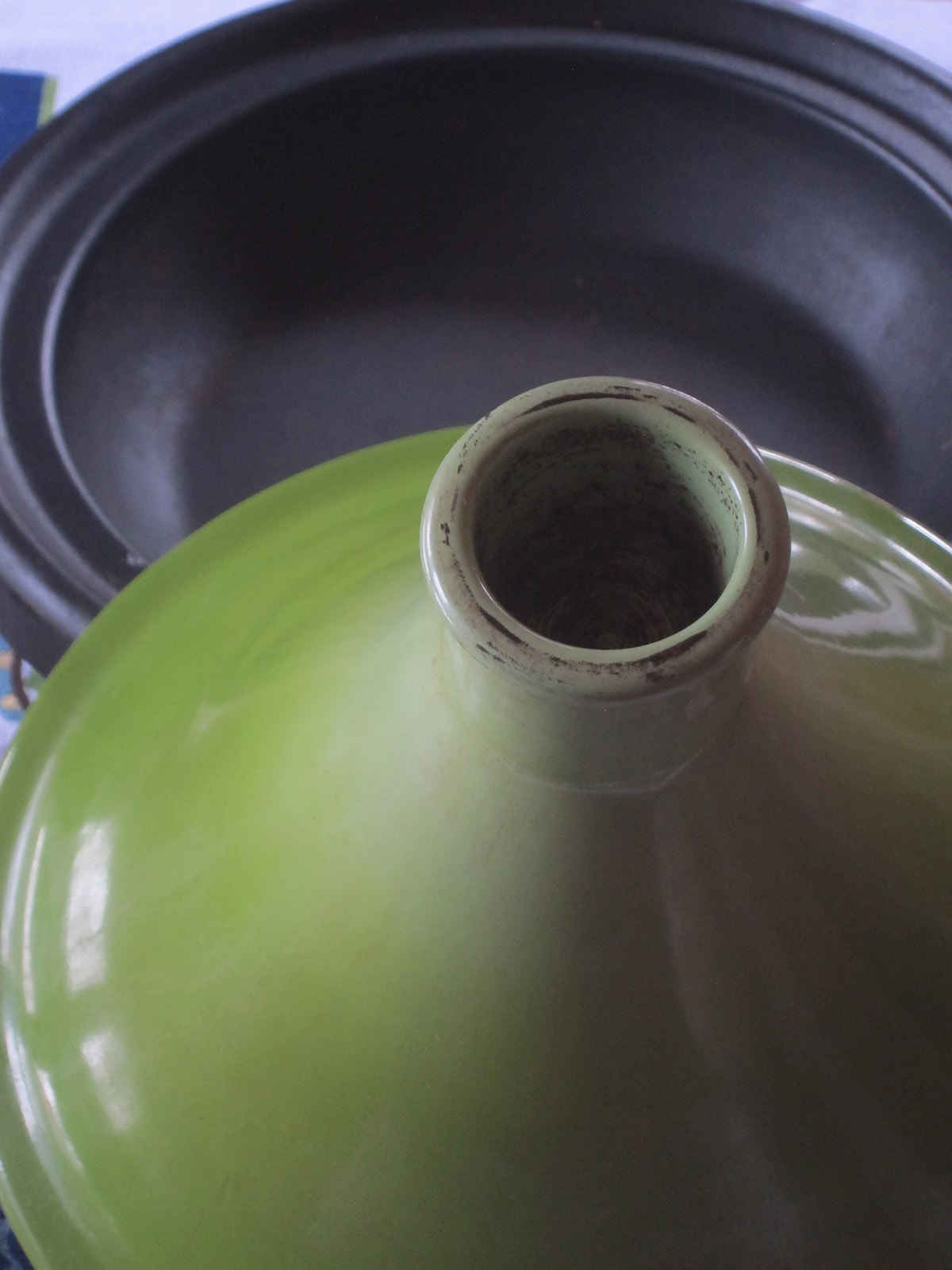 If you were one of my faithful readers over at the Leftover Queen, then you probably remember me waxing poetic about my tagine at one point or another and all the things (other than tagines) that I cooked in it – it was a whole series of sorts over the years I wrote that blog, a passion you could say. The tagine is still one of my favorite cooking vessels. However, if you don't have one, a Dutch over or other covered vessel will work just fine, buuuut…you might want to think about investing in a tagine of your very own!
Last week I celebrated the success of my new book, Love in Every Bite: The Secret to Cooking Healthy Recipes with Positive Energy with a Valentine's Day themed giveaway. One of the prizes was that I would create a custom recipe for the winner based on 3 ingredients. One of the winners, Rachel, another writer and fellow blogger, chose this prize and gave me her three favorite ingredients: chicken, garlic and tomatoes.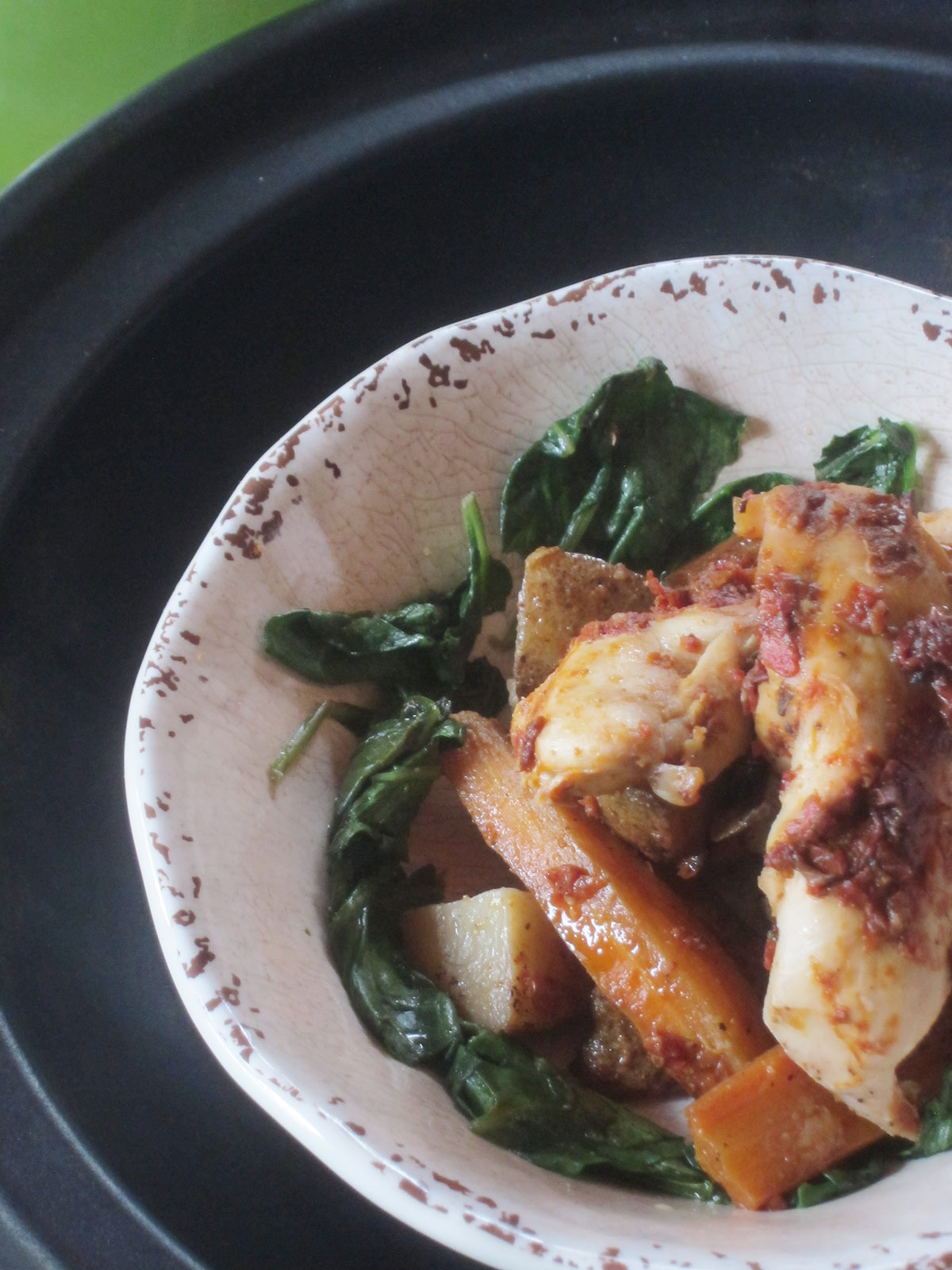 I love creating custom recipes for people, in fact it is service I am thinking of offering here on The Yum Queen. It is a fun thing to do for someone else, and a long time ago, I used to do it on a larger scale for restaurants and cafes. It helps me as a recipe creator to water my creative juices and to think outside the box of what I might normally make and prepare something unique – thereby expanding my own culinary horizons. In that way, I think we both come out winners…and now you benefit too!
The three ingredients she chose are easily available and so I wanted to be sure to create a dish that was both easy to make but also packed a lot of flavor and punch. We enjoyed it last night and it is absolutely a dish I will be making again.
So here is the dish I created for Rachel based on her three favorite ingredients: chicken, garlic and tomatoes. I hope you enjoy it!

Chicken with Tomato and Pepper Paste Cooked in a Tagine
This recipe is cooked in my favorite cooking vessel: the tagine. Slow cooking in a tagine creates tender, mouthwatering dishes, and you let the tagine do all the work. This is a custom recipe I created for a giveaway winner that includes her 3 favorite ingredients: chicken, tomatoes and garlic. The delicious sundried tomato and roasted red pepper paste pack this dish with tons of delicious sun-warming flavors. I hope you enjoy it!
Author:
The Yum Queen (Jenn Campus)
Ingredients
¼ cup sundried tomatoes in oil
¼ cup of roasted red peppers (jarred is fine)
1 large clove of garlic
1 TBS olive oil
1 TBS balsamic vinegar
salt & pepper to taste
1 pound of chicken (I used cutlets, because that is what I had, but you can use anything)
4 large carrots, sliced
4 potatoes, cubed
Instructions
Preheat oven to 300F.
In a food processor, combine the sundried tomatoes, roasted red peppers, garlic, olive oil, balsamic vinegar, salt and pepper. Pulse the ingredients until a thick paste is created. Set aside.
Place vegetables in the bottom of the tagine with some olive oil, salt and pepper, stir to coat vegetables, then add about half of the tomato-pepper paste and stir again. In a separate bowl combine the chicken with the rest of the paste and stir to coat.
Place chicken on top of the vegetables and place tagine in preheated oven for 3 hours.
Serve with some sautéed greens.