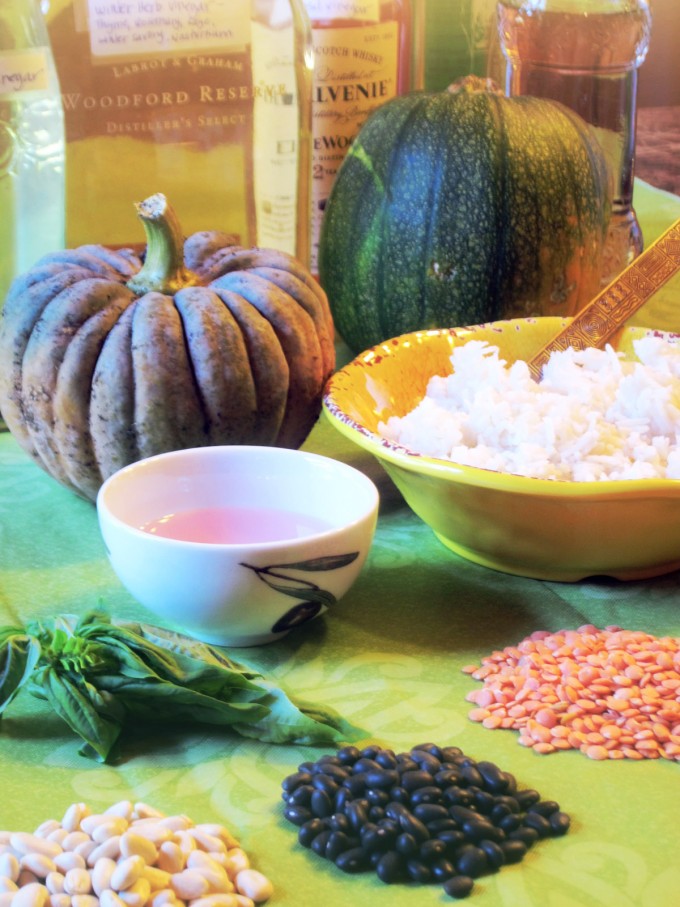 Herbal vinegars are a delightful way to preserve the harvest and to add vibrant flavor to all your favorite dishes!
Harvest season is in full swing right now. Nights are getting cold and it is time to pull everything from the garden that could be damaged by frost. There are many herbs that are somewhat cold hardy. Even here in northern Vermont, I can still see the green of winter savory, thyme and sage peeking up over the first dustings of snow. But most of my culinary herbs, like basil, cilantro & oregano have to be dealt with before first frost and here, the time is now.
I just love the call of Autumn, the leaves blazing brilliant and that brisk air that demands you to use it or lose it. It is a frenzied time here on the homestead, with every spare minute (and there aren't many) freezing, canning, preserving. Winters are harsh here and although there is a grocery store 10 minutes away, honoring the harvest through preservation harkens back to older times when our ancestors relied on their harvest to make it through the winter hale and whole. I like the feeling of accomplishment and security that comes from growing some of our food.
I started making herbal vinegars a few years ago and I just adore them. A splash or two in a crockpot full of soup, drizzled over rice and beans, used in a marinade for roasted chicken, glugged into savory stews, mixed with olive oil and Dijon mustard as a vinaigrette for winter greens adds zest to these sometimes humble dishes, elevating their place at the table.
Making herbal vinegars is a great way to use up surplus herbs after you've made your medicines, dried enough for seasoning food throughout the year and created your herbal tea blends. The best part is that they are so easy to make and you can flavor them anyway you like!
Last year when fresh cilantro was out of season and the stuff they sold in the store lacked vigor, my cilantro infused vinegar did the trick. Rosemary, sage and thyme vinegar splashed on baked winter squash or into a crockpot full of chicken bone broth perked up those dishes, and oregano vinegar drizzled in my pasta sauce added that extra bit of brightness to make the sauce shine.
I use raw apple cider vinegar for most of my infusions because of its health properties. This article by renowned herbalist, Susun Weed highlights those benefits, including allowing your body to absorb more of the nutrients in your food.
Earlier in the season when chive blossoms were at full force, I made chive blossom infused vinegar and used white vinegar because I wanted the delicate purple color to shine through, not because you can see the color when you dress a dish with it, but because it makes me happy and when I look at its color, it reminds me of warm summer days.
This year I made the following vinegars:
*Cilantro-infused Apple Cider Vinegar
*Oregano-infused Apple Cider Vinegar
*Winter herb- infused Apple Cider Vinegar (which includes, sage, rosemary, thyme, winter savory and nasturtium flower)
*Thai Basil- infused Apple Cider Vinegar
*Chive Blossom-infused White Vinegar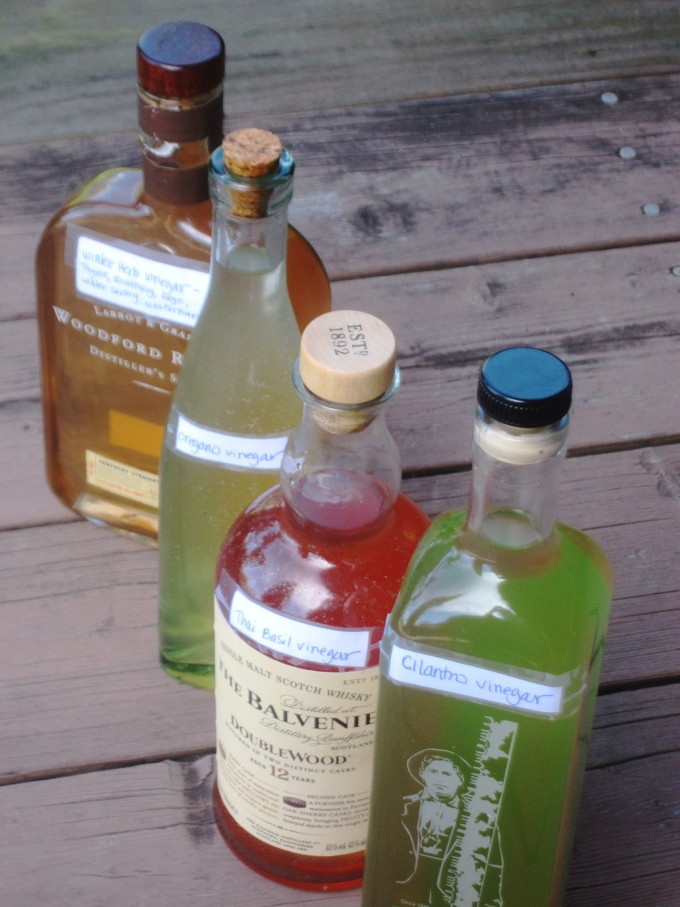 Supplies Needed To Make Herbal Vinegars:
*Glass jar with plastic lid (if you have only metal lids, use plastic wrap to create a barrier between lid and vinegar to prevent metal leeching)
*Enough herbs to fill the jar at least half way (the more herb the better)
*Vinegar to fill the jar and cover the herbs inside
*Plastic mesh strainer
*Glass container with a spout for easy pouring
*Bottles to keep finished vinegars in
*Labels
How To Make Herbal Vinegars:
1) Harvest fresh herbs and process them as soon as possible afterwards
2) Fill the clean glass jar with the herb
3) Fill the jar with vinegar and place the lid on top
4) Label jar with contents and date
5) Store in a dry, dark place for up to two weeks (I usually let mine go for 4-6 weeks)
6) After the infusions are ready, strain the contents of the jar into the glass container and then pour into the storage bottles. I like to keep old liquor bottles with stoppers for this purpose.
7) Label the bottle
8) Enjoy!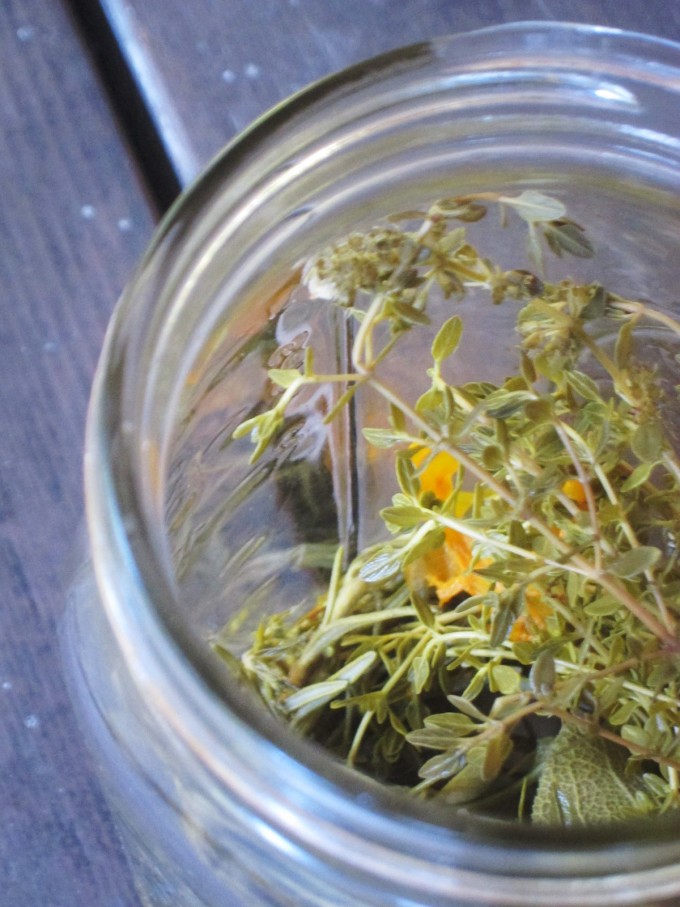 UP THE YUM: As you work with your herbs, focus on your intention for nourishment and imagine the power of your intention radiating from your heart, into your arms and down through your fingers, finally out into the substances you are working with. Thank all of the herbs for coming together for nourishment.
FEED YOUR CHAKRAS: This is root chakra work, anything having to do with preservation hits that chakra deeply.