Coriander is the seed of an annual herb in the Apiaceae family, of which the leaves are known as cilantro. The entire plant is edible and is well loved for the citrus flavors it imparts to the dishes of various world cuisines. It is also known as a folk charm to promote love and well being.
What is my favorite thing about growing cilantro? A fall crop of coriander seeds!
This is a plant that keeps on giving, from the time it sprouts green, until its flowers give way to buds that turn into delicious exotic coriander seeds, talk about home grown fun.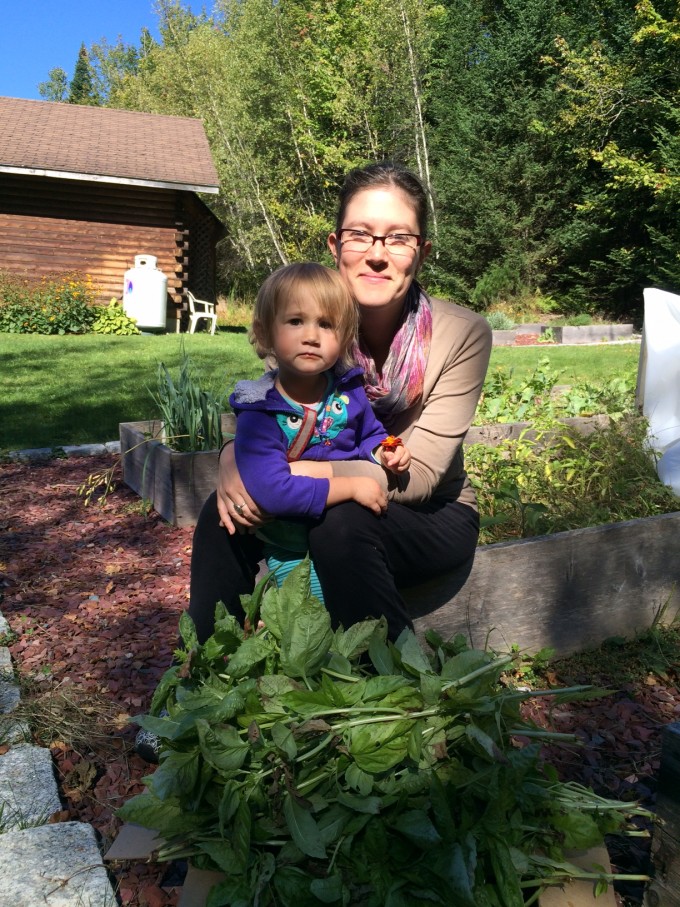 (Me and my budding herbalist)
The fresh leaves, known as cilantro, have a citrus flavor to them, making them a perfect herb for Mexican foods like guacamole and also paired with Thai and Vietnamese cuisine and is usually used in its raw form as a garnish. Wherever there is lime, cilantro should follow. That is this woman's opinion, anyway.
I also love using coriander seeds; they are warm and nutty and also go well with citrus, particularly orange. Coriander is my preferred main spice for beans. I love using a combination of coriander, cumin, paprika and maple sugar in my baked beans. I also use coriander as a main ingredient in my pork rub and of course, I use it in various curries, it being one of the main ingredients of garam masala.
Coriander is also an ingredient in common pickling spice, found in German specialty sausages and used in brewing certain types of Belgian beers. It also has a long history here in the states, too. According to Wikipedia, coriander was brought to the British colonies in North America in 1670, and was one of the first spices cultivated by early settlers.
Although many consider it an exotic spice, it is found spicing the dishes of many cuisines around the world, far and near. In folklore, coriander is associated with love and also peace. It was often steeped in warm wine as a love potion and spicing a dish with it to be eaten by those who are quarreling is said to help them bury the hatchet.
This is an easy spice herb to pick by hand and perfect for your own budding herbalists or gardeners. Kids love to help and emulate what their parents do, and this is definitely a skill I am happy to teach my daughter.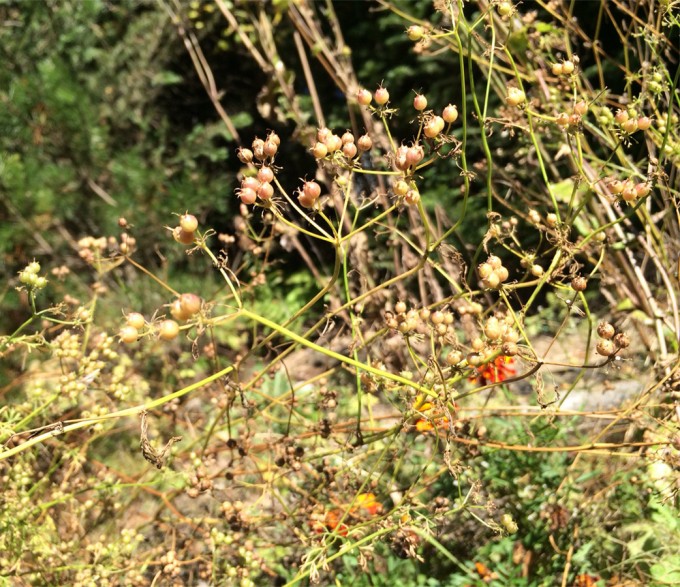 UP THE YUM: Make a nice spice blend, including coriander seeds to give as gifts to those you love. Consider adding coriander to your favorite bean and pork dishes.
FEED YOUR CHAKRAS: Since the magical properties of this herb have to do with love, it will correspond well with the heart chakra. However, coriander is also associated with the element of fire, linking it to the third, or solar plexus chakra.