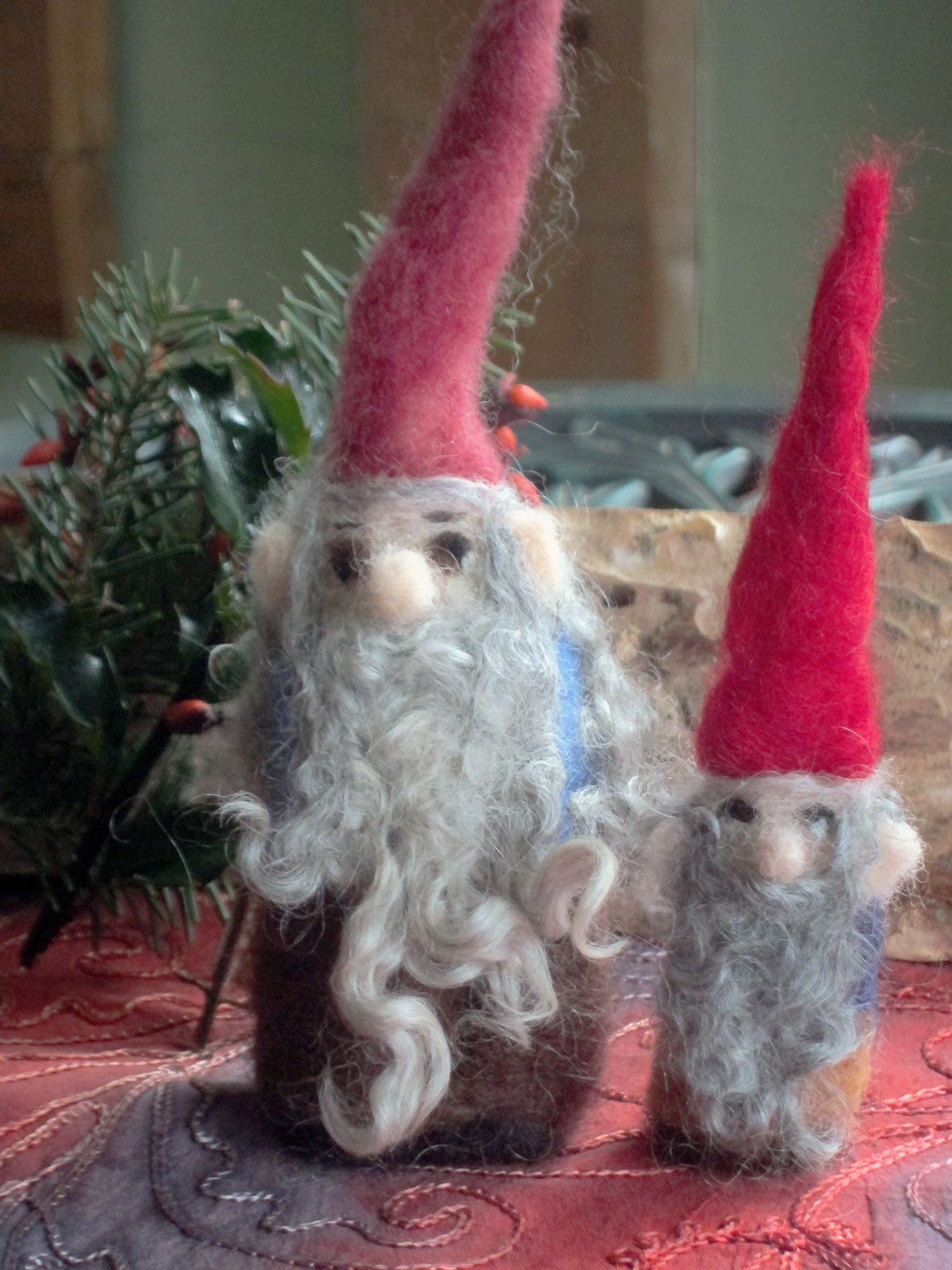 Nisser, Tomten and Yule Elves are associated with Scandinavia, the winter solstice and winter holiday season. They are known as gift givers, but not the same way as Santa Claus – although like Santa, it is important that you are nice to your Nisse! Nisse can be your answer to Elf on the Shelf for the Yuletide season, if you are a folklorist like me.
I first encountered the Nisser when I lived in Norway as an exchange student. They are everywhere during Jul/Yule time and they have a special place in my heart from the time that I spent there. I wanted to keep that tradition alive and pass it on, by incorporating it into our holiday festivities, especially now that Alba is a bit older and is really starting to get these kinds of things.
Nisser are generally associated with a particular home or family and are known to sometimes follow the family when they move. They are rooted in the folklore of farm life and act as the homestead's guardian, a bit like a house elf. In earlier times they might have been a clan or ancestor spirit, the spirit of the person who first built the farm.
If the Nisse is treated well by the family they will watch over the farm, the animals and the family protecting them from harm. However, if not treated well by the family, they will create a lot of mischief and misfortune for the family until a proper relationship is established.
In appearance Nisse look a lot like a typical garden gnome, they are short and often squat. They are usually wearing blue shirts and they wear the iconic red conical hat. They often have very long gray or white beards and are usually elderly in appearance.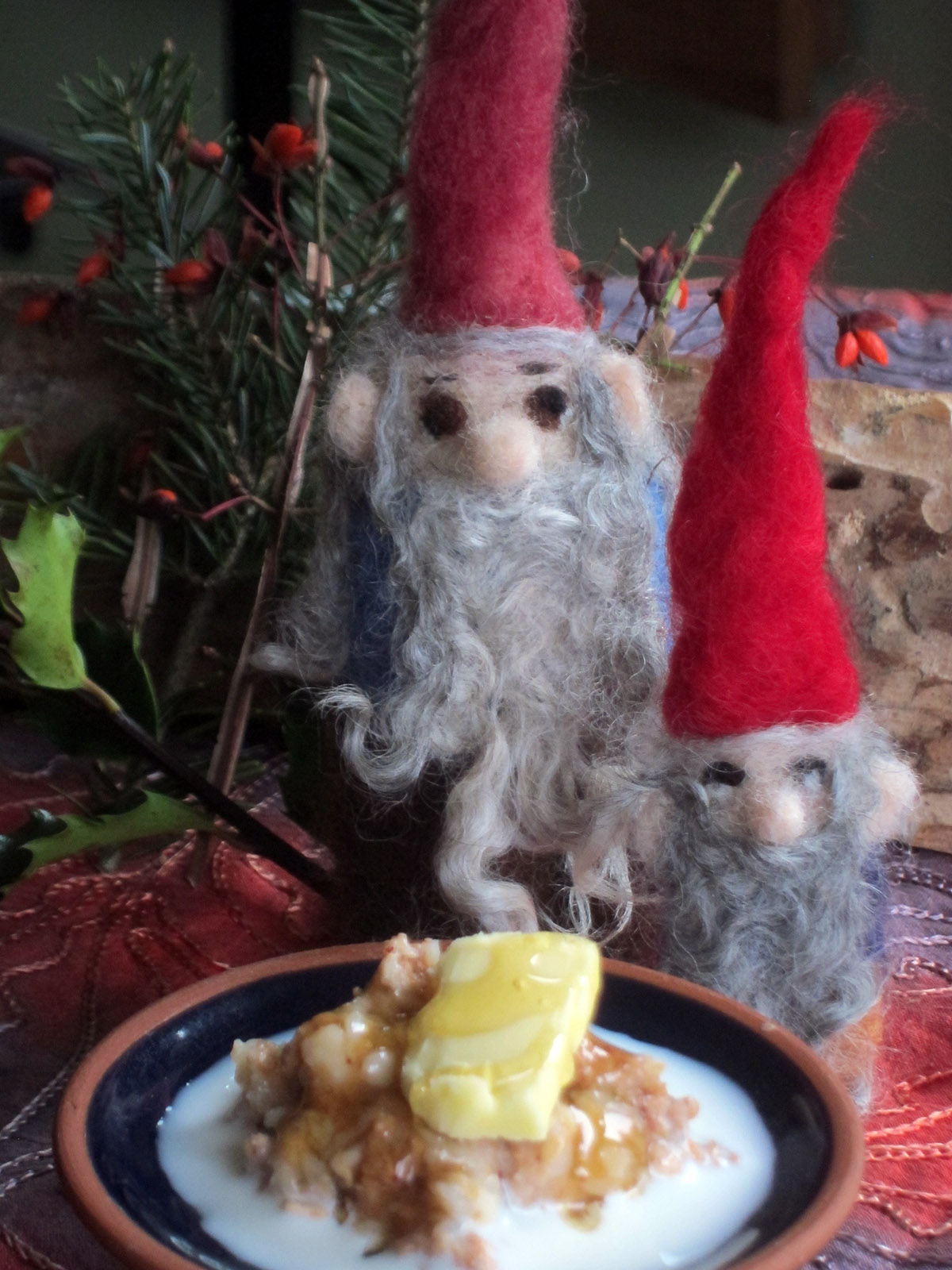 Norwegian folklore states that they have four fingers, and sometimes pointed ears and eyes reflecting light in the dark, like those of a cat. Nisse are also well known shape shifters, so if you see them at all, in may be in another form, but mostly they stay hidden from human eyes .In many ways they are similar to a garden gnome in that they are guardians of place.
It is customary to leave a bowl of porridge with butter, milk and honey out for them in thanks and gratitude, especially on the night of the winter solstice or Christmas Eve. This offering of porridge is what remains of ancestor worship in pre-Christian times.
Since the mid-1800's the Nisse has been associated with Christmas gift giving. In previous times, the Yule Goat did this, but that has fallen out of fashion in modern times, although Nisser are often picture with goats. These earlier traditions modified with the emergence of Santa Claus and Father Christmas in other western cultures.
To bring the Nisse tradition to our household and begin introducing these creatures to Alba, I needle felted a pair of them. In the coming weeks, they will become part of our Yuletide décor, probably residing in our kitchen, the "heart" of our home. Since we do live on a homestead and do raise livestock, I think a Nisse tradition will resonate with her more than some of the Christmas Elf traditions that have been floating around the past several years. Plus, I like the fact that it ties into ancestor worship and veneration of spirit of place. Both of these things, she is too young to understand, but this tradition will hopefully start building a foundation for her.
I have the book The Tomten
 by Astrid Lindgren on order to read to her on the Solstice before we leave our bowl of porridge as offering.
New Note: 2017: She loves giving offerings to them so much that this year we are leaving them up all year. I make a large batch of porridge every week, and so with each fresh batch, the offering gets replenished.
UP THE YUM: Create your own holiday traditions for your family, drawing from stories and mythology that you love. Your passion and enthusiasm will be infectious to the children of your household!
For more information on how to get your own pair of Tomte, please see my Etsy shop.