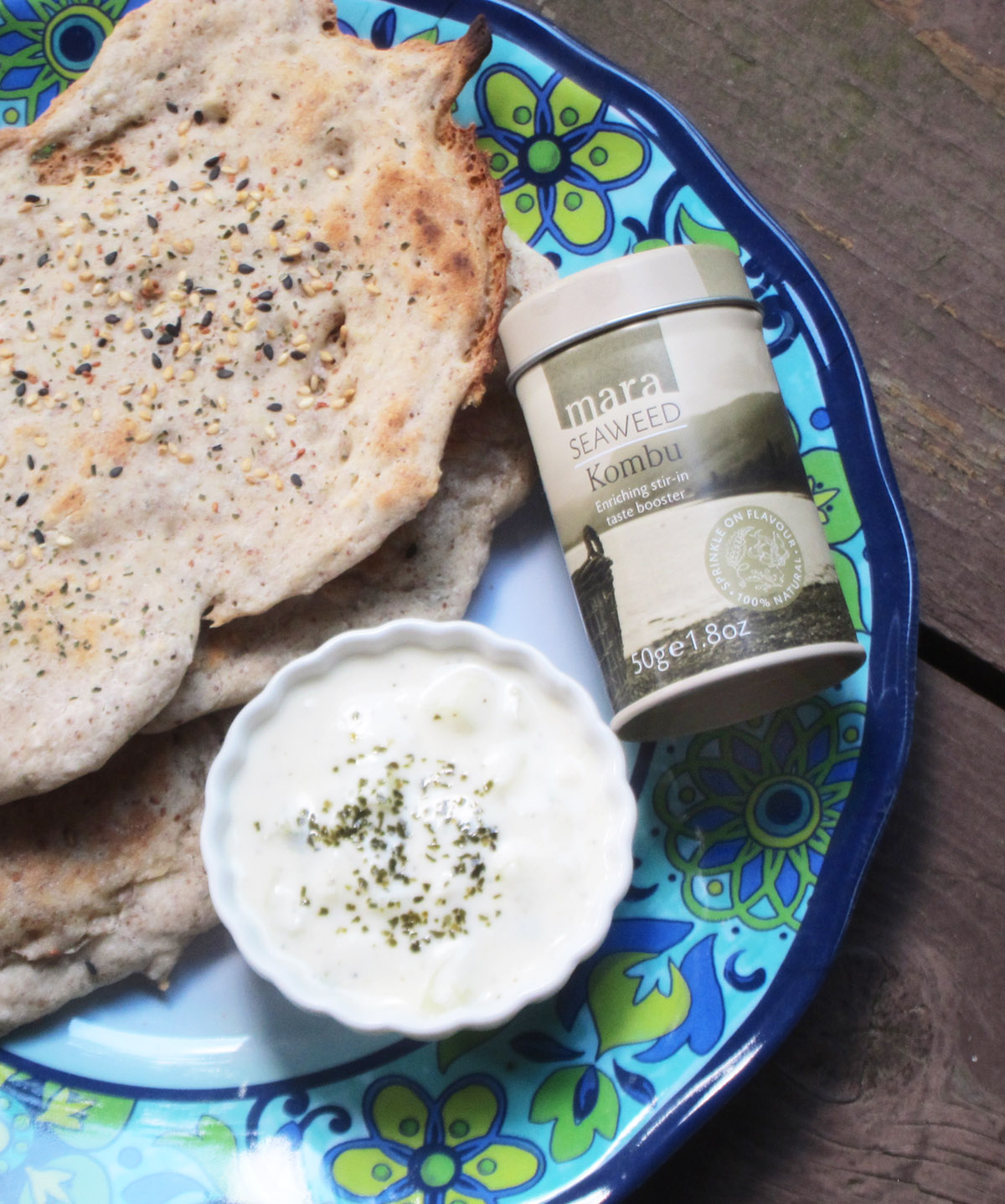 My favorite gluten free bread baking cookbook is Gluten-Free and Vegan Bread: Artisanal Recipes to Make at Home by Jennifer Katzinger and I especially like her various sandwich bread recipes. Usually I make the Soft Millet Sandwich Bread and a couple of weeks ago, I had mixed the bread dough, preheated the oven and was all ready to slide my bread in, when I realized my oven had shut off and wouldn't come back on. Oh no! I was starting to panic, when my lovely husband suggested I try baking the bread in the grill.
His mom grew up baking bread in a wood fired oven and so he figured why not use the grill. Smart idea because I didn't want my lovely bread dough to go to waste, but I wasn't really sure about baking it in the grill either, having never tried it. Ack! What to do? So that is when we came up with the idea of turning the dough into a batch of flatbread!
One of my favorite condiments, one that really creates a spark of joy for me when cooking are my various Mara seaweed sprinkles from Scotland, which you use like dried herbs. I purchased a sample pack on our most recent trip to Scotland last autumn. I love seaweed and adore cooking with it, my initial love and craving coming a couple of years ago from an iodine deficiency, something that is very common in most western diets. My iodine levels are good now and to keep them in check I use a lot of seaweed products. Cooking with seaweed is not unknown in Scotland and Ireland and in fact it is very much a traditional food there.
We raise Shetland sheep on our homestead and it is well known in the Shetlands that the sheep often graze on kelp and other seaweed. Our sheep get a little bit of kelp mixed in with their food and I figured why not me too?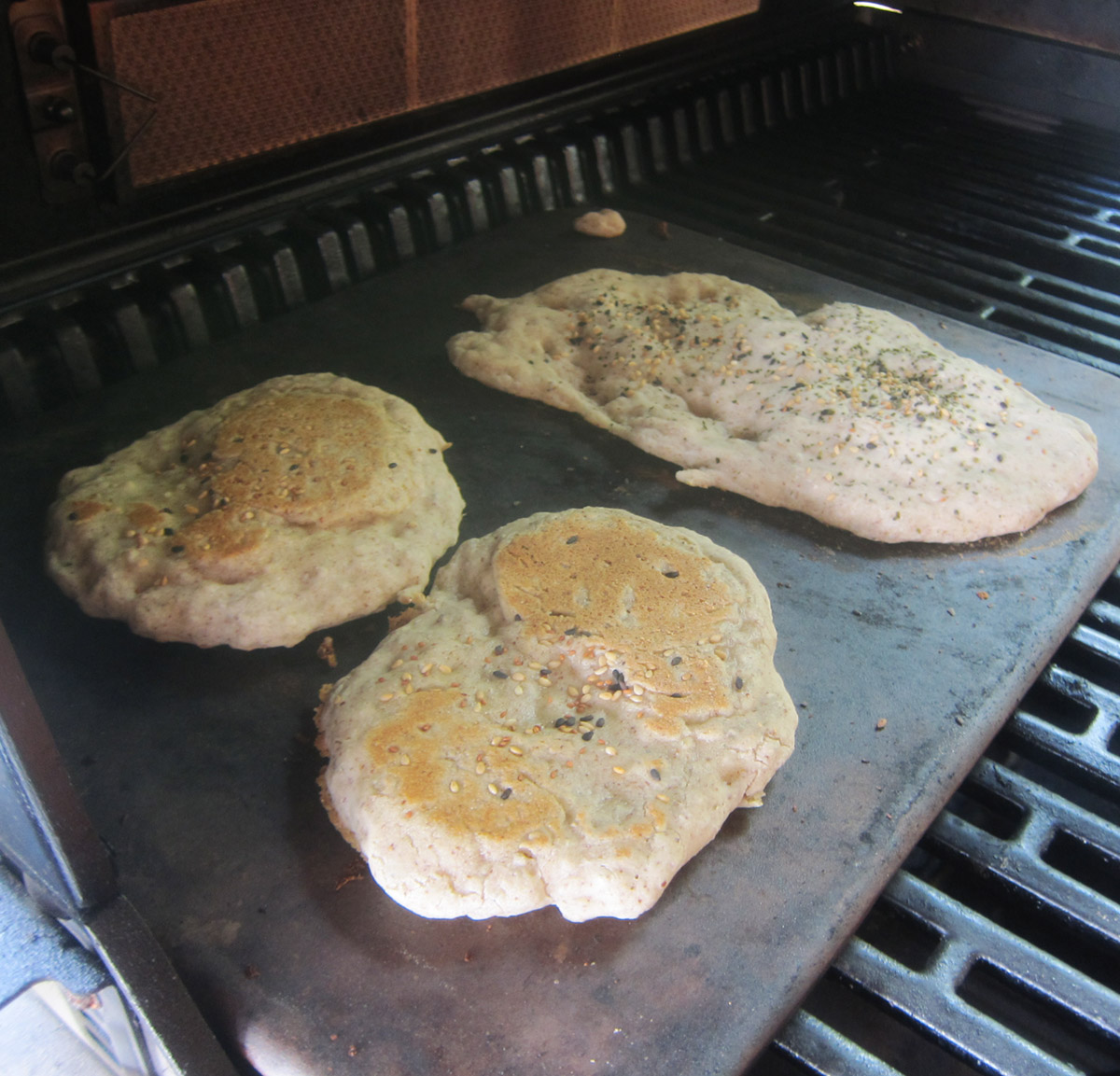 My seaweed obsession is in full swing now. I love snacking on dried seaweed and I also enjoy cooking with my various Mara varieties in the form of sprinkles. I thought some would be a nice addition to this flatbread recipe. For this recipe I used the Kombu variety. Here is what the Mara website has to say about the properties of Kombu:
"Smooth tasting, umami rich brown seaweed. Kombu is pure umami- the fifth taste – meaning "delicious". This deep-water kelp is a smooth flavour enhancer. Spoon into soups, stews or add to beans, tomatoes and mushrooms. Mineral-rich healthy salt alternative.
An ideal food-safe natural source of the mineral iodine, which contributes to normal functioning of brain and nervous system, skin, thyroid, metabolism and healthy growth in children.
A natural superfood harvested from the elementally pure, cold seas around Scotland."
This little baking hiccup actually turned out to be a blessing in disguise, because the flatbreads turned out great and I really enjoyed them. Grilling flatbreads instead of baking bread is also a great way to make bread in the heat of the summer and also convenient in case your power ever goes off!
UP THE YUM: Adding seaweed to your diet is a way to get your body a pure form of minerals. From Mara: "We call seaweed 'the superfood of the sea', a life-sustaining food, it is the most highly mineralized vegetable on earth. Seaweeds accumulate their minerals directly from the ocean and concentrate them within their plant structures. So as a food, seaweed can provide us with minerals often absent from food crops grown in our mineral-depleted soils."

Grilled Millet Flatbreads with Sesame Seed and Kombu Seaweed Sprinkles (Gluten Free, Vegan)
This is a perfect summer bread recipe for when you don't want to use your oven – flatbreads are fun to make, taste delicious and are easy to customize! Topped with sesame seeds and Mara Seaweed they are not only yummy, but also healthy!
Author:
The Yum Queen (Jenn Campus)
Serves:
4 large flatbreads
Ingredients
2 TBS chia seeds
½ cup water
1 ½ cups tapioca starch/flour
1 cup millet flour
1 cup brown rice flour
⅓ cup flax meal
1 teaspoon salt
2 ¼ teaspoons active dry yeast
1 ½ cups water at room temperature
3 TBS olive oil
2 TBS maple syrup
sesame seeds and Mara Seaweed Kombu to garnish
Instructions
Soak chia seeds in ½ cup water for at least 15 minutes. Preheat the grill to 425 F and place a pizza stone or cast iron griddle on top of the grates, regulate heat to keep temperature at 425 F.
In a stand mixer dissolve yeast in 1 ½ cups water, add the olive oil and maple syrup. Let stand 3 minutes until foamy (foamy means the yeast is activated).
In a separate bowl combine dry ingredients. Mix the soaked chia seeds with the yeast mixture in the mixing bowl on low speed. Add the dry ingredients about ½ cup at a time, until well incorporated and increase speed to medium high until a soft dough is achieved (about 2 minutes).
Spread dough onto the pizza stone and use a spatula to even it out – you can make the flatbreads any shape you like. Sprinkle a combination of sesame seeds and seaweed on top, cook on each side about 5 minutes with grill lid down.
Place on cooling racks for at least an hour. Makes 4 large flatbreads