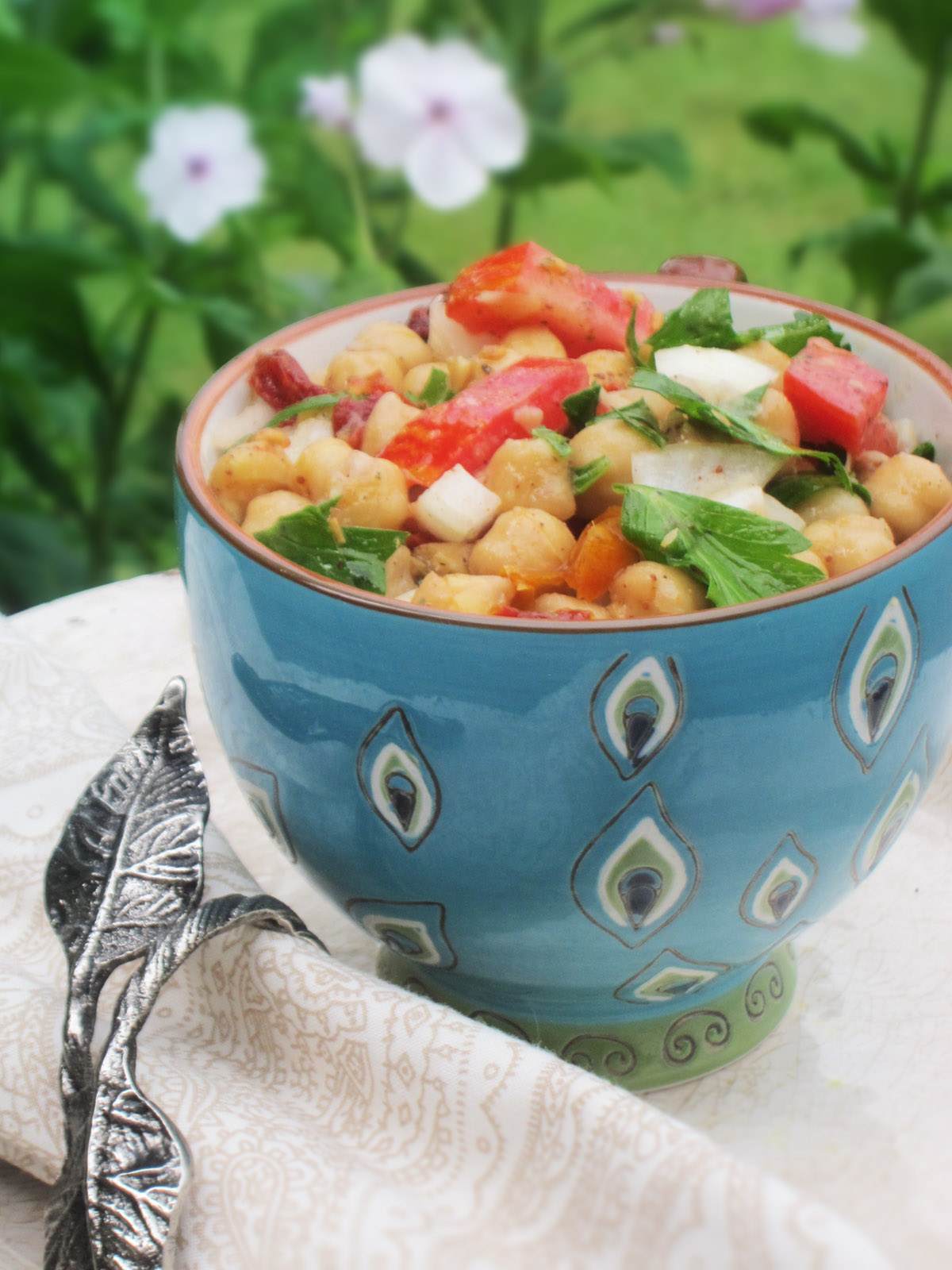 Balela salad is all the rage. Here are my lip-smaking ideas to make it the most delicious one you've had yet!
The first time I had Balela salad it was at a local restaurant here in Stowe, Vermont called PLATE. The next time I bought a tub of Pita Pal's brand at Costco and totally fell in love! Now I see recipes for Balela everywhere and it makes sense, because it is really easy to make at home and so scrumptious.
I have had a love affair with chickpeas since I was I my teens and I was drawn to Balela because of it. It is now one of my favorite salads. It is hearty and filling and oh so flavorful. The best word I can use to describe the taste is **"bright"**. We enjoy it often for lunch with a slice of crusty (gluten-free) bread. It is a plant-based dish that is easy to love. It is perfect for a gluten-free, vegetarian, or vegan diet. It is delicious on its own or can be the filling for a wrap, mashed on a sandwich, or served as a dip.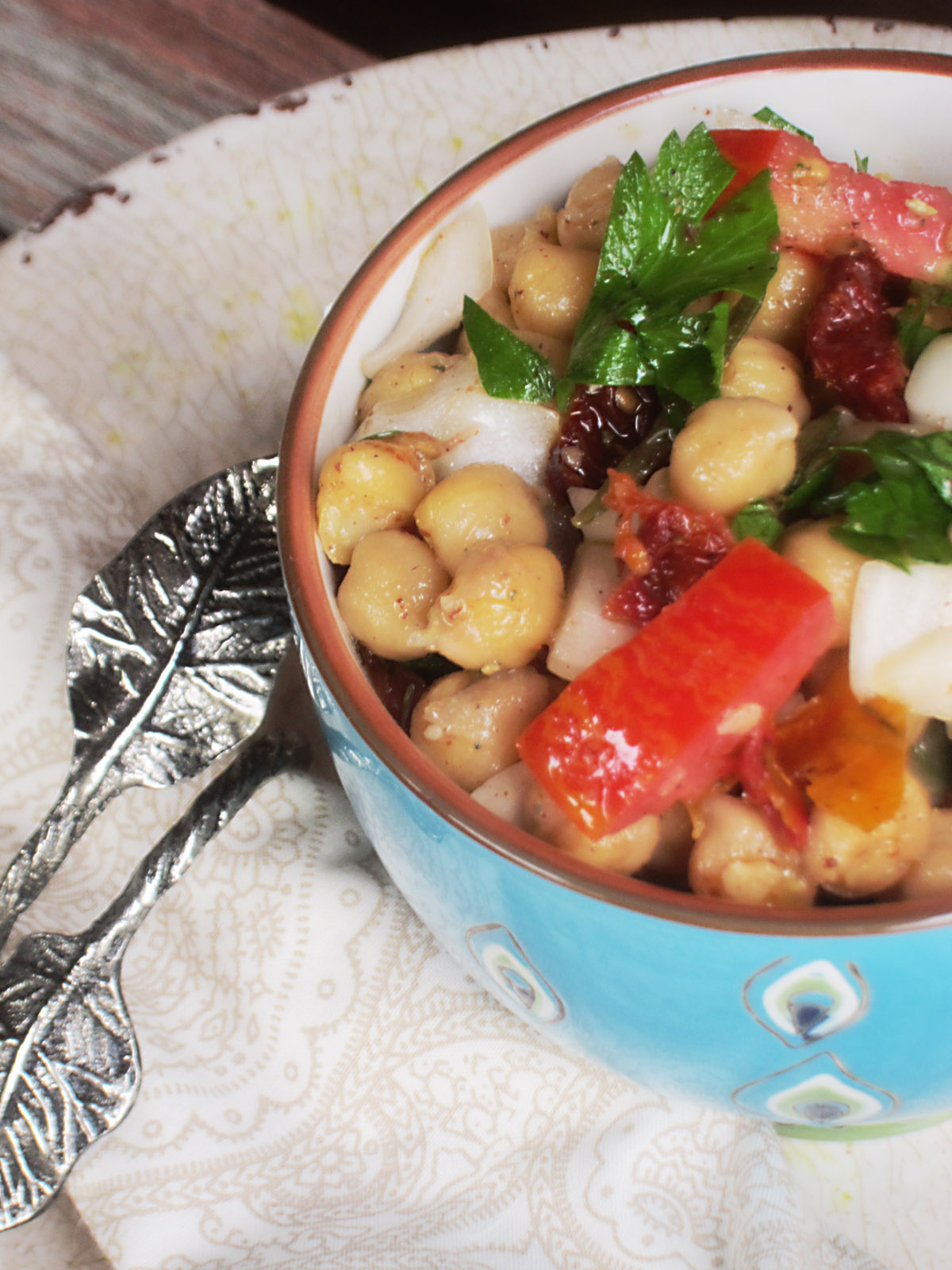 For me, the key to making lip-smakingly good Balela is to use a lot of parsley. Funny enough, Balela is the only thing I use parsley in because I don't really like it in general. But it literally makes this salad. One of my secrets to this dish is also the use of double acid. I use both lemon juice and red wine vinegar. Using both adds a depth of flavor that is really tangy without being too puckery or taste too much of vinegar.
I also choose to omit the black beans. I love black beans, but have never understood why they are in Balela because they are not typically found in the Mediterraean. So I leave them out.
I also add za'atar because it always elevates the citrus flavors of a dish and it adds to this dish's fresh flavor.

The Best Balela (Mediterranean Chickpea Salad)
Balela salad is all the rage. Here are my lip-smaking ideas to make it the most delicious one you've had yet! I like to make this a day ahead and serve with crusty bread for a quick and easy lunch.
Author:
The Yum Queen (Jenn Campus)
Ingredients
4 cups chickpeas, cooked
½ teaspoon sea salt
¼ teaspoon pepper
1 TBS. za'atar
⅓ cup olive oil
¼ cup lemon juice
¼ cup red wine vinegar
1 cup Roma tomatoes (or paste tomatoes), diced
1 cup onions (I prefer sweet white or red), diced
⅓ cup of sundried tomatoes in oil
1 cup fresh parsley, chopped
Instructions
Mix all of the ingredients together in a large bowl.
Let salad marinate for at least 2 hours.
UP THE YUM
: Pita Pal uses sun-dried tomatoes in their Balela, I also use them in addition to fresh tomatoes. I love the sweetness the sun-dried adds, but also love the fresh tart flavor of fresh.