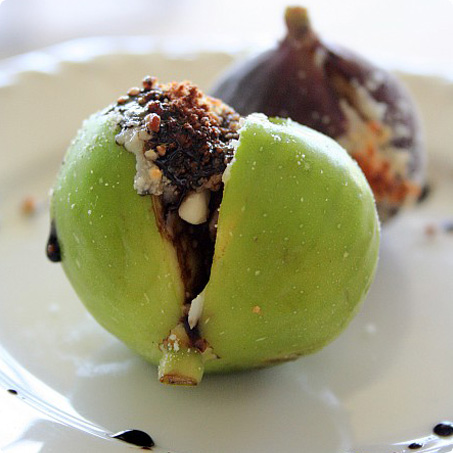 Beautiful, fresh and elegant. Perfect for sharing with friends and family. There is just something magical about the pairing of figs and balsamic vinegar. The sweet, syrupy richness of the vinegar, the sharp taste of the cheese cutting through the sweetness of both fig and balsamic is unparalleled.
Just look at the color of that fig – if that isn't a sexy show stopper on your summer table, I don't know what is! It is the perfect hue of bright green.
We are in the midst of fig season, which tends to be short. So please, I encourage you all to make this simple and delicious antipasto that is sure to please all your senses!
I am pleased to tell you that this little snack is not just gorgeous, but also super easy to prepare and only requires 3 ingredients – figs, cheese and balsamic vinegar. There is very little prep work and it is absolutely delightful to eat. Win, win, win!
If you want to create this simple 3 ingredient recipe, then check out my book
Love in Every Bite: The Secret to Cooking Healthy Recipes with Positive Energy