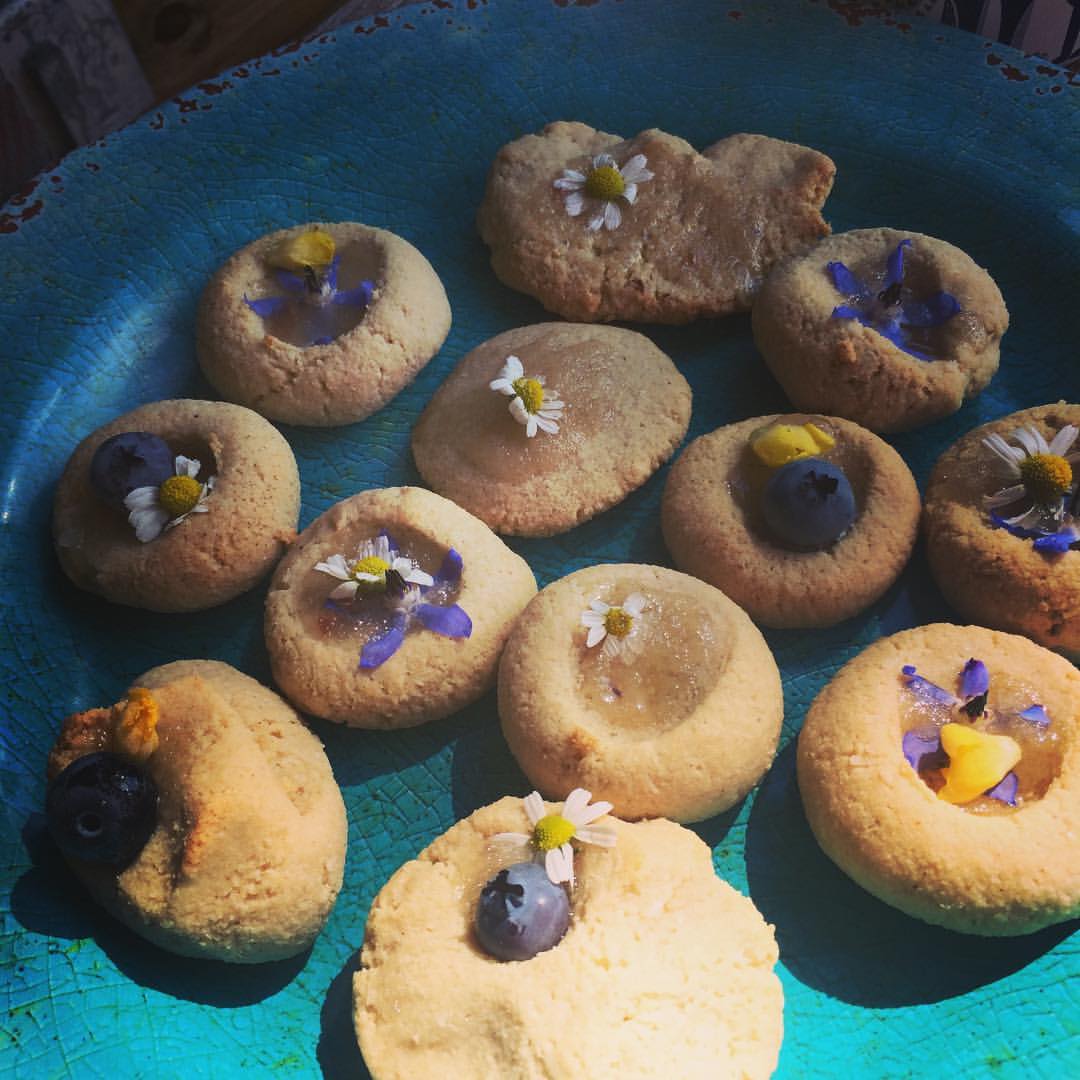 I apologize for my long absence. Having a baby, starting a new company and adjusting to life with 2 small children at the same time has been hectic, to say the very least. In my absence I have been learning how to slow down and enjoy all the many blessings I have in my life, even though some parts of it are far from perfect. Through some personal struggles my resolve has become even stronger to share with my readers ways that we can all enjoy our lives no matter where we are in them and what challenges we face. We are all  of us worthy of joy, mirth, laughs, smiles and love no matter what personal battles we might be fighting.
I wanted to celebrate this "new lease on life" with my 2 (almost 3!!!) year old daughter, Alba. She has become very interested in helping in the kitchen and in my herb garden. So I decided to marry the two interests (part of our new homeschooling adventure together) by baking cookies with edible flowers for a fairy tea party. I found a really simple recipe, added our own spin on it, decorated it with edible flowers that we harvested from our herb garden, then shared some, in offering to the fairies (land spirits). We talked about giving back to the land to thank it for our food, and for beautiful soft grass to enjoy picnics, for the bees and the birds that pollinate the herbs and plants in our gardens. I am not sure how much of it she got, but she listened with interest.
Then we enjoyed some cookies ourselves. This is a really easy recipe to make with kids  – there are only 4 main ingredients and the dough comes together like a dream and is really easy to work with; perfect for little hands. Plus, they are very delicious and you can embellish them with your favorite toppings or mix-ins.
I hope you enjoy my modified recipe (you can find the original here).

Fairy Tea Cookies
Marrying my toddler's current interests of cooking/baking and herbs, we had fun making these simple cookies that are easy to modify to your own tastes and decorate to your fancy!
Author:
The Yum Queen (Jenn Campus)
Ingredients
2 cups finely ground almond flour
½ cup shredded coconut
½ teaspoon baking powder
1 teaspoon of cinnamon
⅓ cup maple syrup
2 teaspoons vanilla extract
¼ cup organic cane sugar
water
edible flowers to decorate (we used borage, chamomile and mullien)
Instructions
Preheat the oven to 350°F. and line a cookie sheet with parchment paper.
Mix the almond flour, coconut, cinnamon and baking powder together in a medium mixing bowl.
Then stir in the maple syrup and vanilla. Stir until a sticky dough forms and holds together (comes together really quickly in a stand mixer).
Roll one tablespoon of the dough into a round ball and then place them onto the prepared baking sheet about one inch apart.
Then place your thumb on top of the cookie and press down to make an indentation.
Bake until the edges are golden brown, about 12 minutes. Allow the cookies to cool on the pan for about 3 minutes, then transfer them to a wire rack to cool completely. Cool baking sheet between batches.
While cookies are baking make the simple syrup. Place the sugar in a small saucepan, then add enough water to moisten all the sugar and cook over low-medium heat until the sugar is melted.
Once cookies have cooled, place edible flowers on the cookies and drizzle the simple syrup on top to glue the flowers to the cookies.
Let set 15-20 minutes before eating.
UP THE YUM:  Make some of these cookies with the kids in your life, or make them for yourself and celebrate life by having fun decorating them in your own whimsical way!