Sheep Birthday Party Cupcakes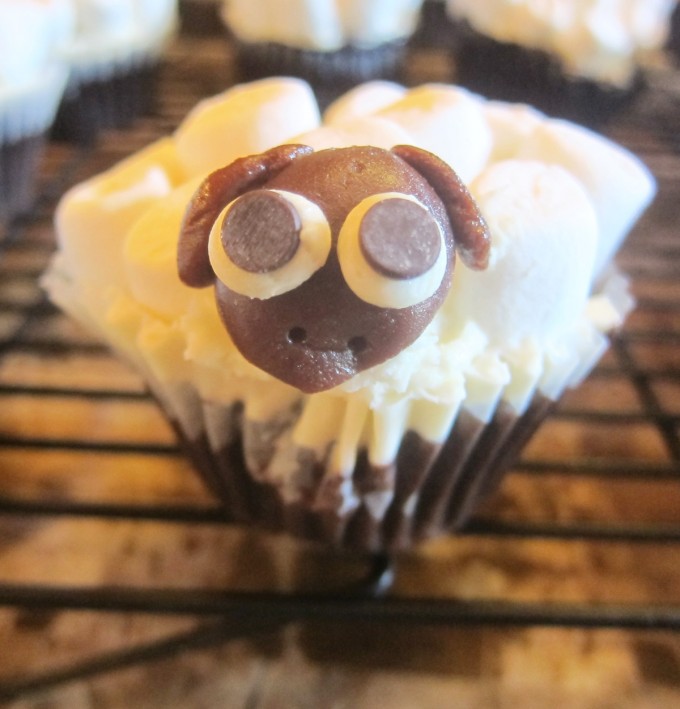 Author:
The Yum Queen (Jenn Campus)
1 box King Arthur Gluten Free Chocolate Cake mix (you'll also need eggs, vegetable oil – I used coconut and water to make the cake)
1 box Dr. Oetker Organics Organic Icing Mix Vanilla
2 bags of Dandies Vegan Marshmallows Vanilla Minis, 10 Ounce
40 Enjoy Life mini chocolate chips
1 bag of TruJoy Sweets Organic Vegan Choco Chews Candy 2.3 oz
Bake cupcakes and prepare icing according to package directions. When cupcakes have cooled, ice them.
Then immediately stick the mini marshmallows to the icing, all over the cupcake, leaving a small hole for the head.
Form the heads and ears by cutting each chocolate chew in half. You will need one half of a chocolate chew per head. Then cut ⅓ of the half off. That ⅓ will be used for the ears.
Shape the head by rolling the chew in between you hands to make a ball, then flatten it a bit for the face.
Then roll the ⅓ into two small tear-like shapes for the ears.
Poke two holes in the face with a toothpick to make nostrils.
Then with a cake decorating tip, use some icing to create the eyes, then immediately stick the mini chocolate chip on top for the iris.
Use a little more icing to stick the heads on the cupcake.
Voila!
Recipe by
The Yum Queen
at https://yumqueen.com/sheep-birthday-party-cupcakes-and-the-joy-of-plan-b/