Scotch Eggs with Curry Mayo To Celebrate Spring! (…and how to boil the perfect hard-boiled eggs)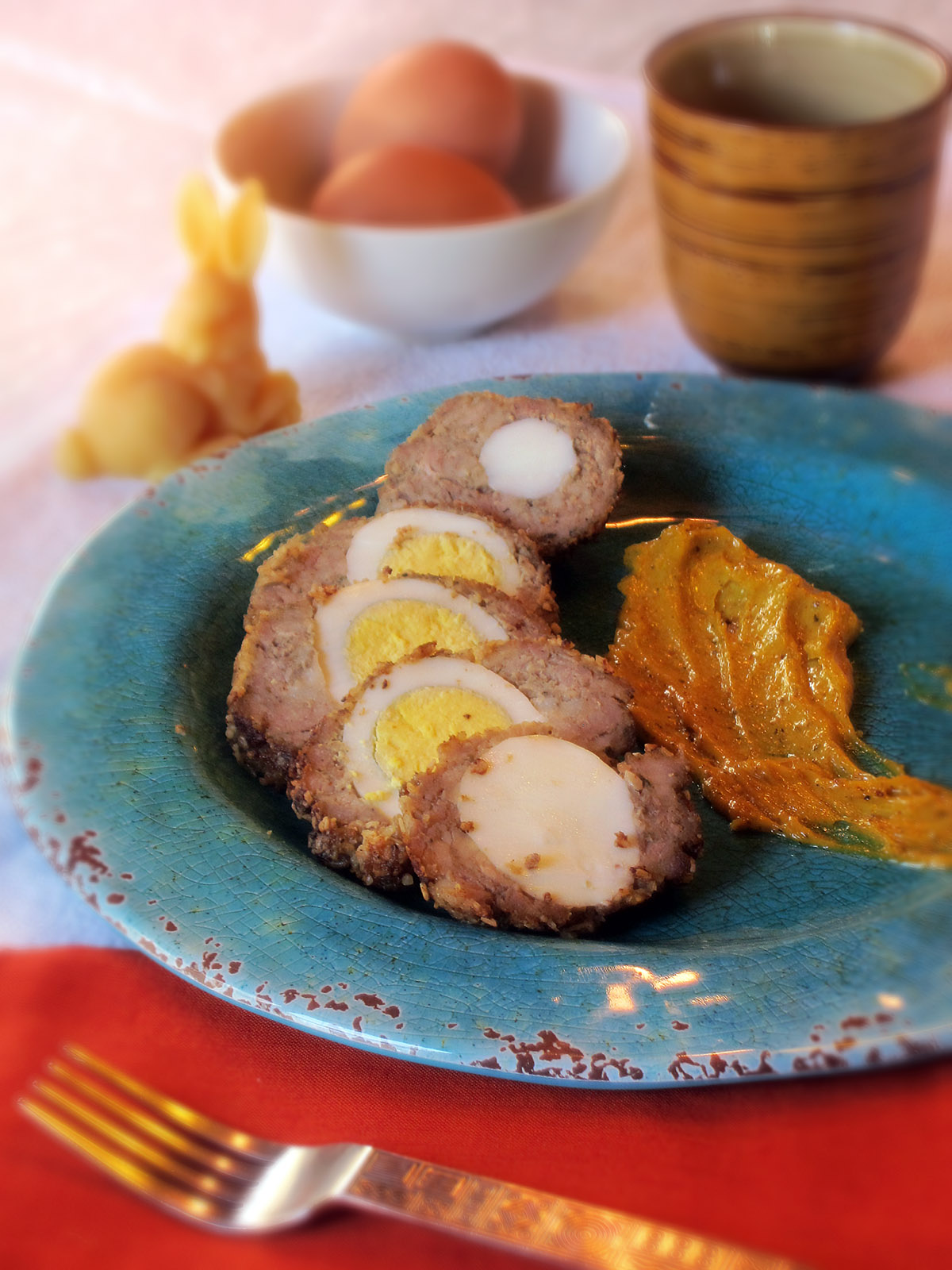 Author:
The Yum Queen (Jenn Campus)
STEP 1: Boil the eggs - How To Make Perfect Boiled Eggs: Place eggs in a pot of cold water (use enough water to cover the eggs), add to the water 1 teaspoon of sea salt and a glug of vinegar. Put a lid on the pot and put on a burner over high heat. Once the water begins to boil, turn the heat off and set a timer for 12 minutes. Immediately remove the eggs from the water and run them under cold water or place them in a bowl of cold water. After about 5 minutes they will be cool enough to touch. At this point peel the eggs and set them aside.
STEP 2: Get your skillet ready - Heat up a cast iron skillet over medium heat
STEP 3: Tuck the eggs in - Take ¼ of the sausage and make a flat pancake out of it and place one egg in the center and carefully wrap the egg entirely in the sausage, then roll the whole thing in the oats. Do the same procedure using the rest of the eggs, sausage and oats.
STEP 4: Cook Scotch Eggs & Prepare Curry Mayo - Add olive oil to the warm cast iron skillet. Place the Scotch eggs in the skillet and brown on all sides, about 3-5 minutes each side (15-20 minutes total). While the eggs are cooking, you can mix the mayo and curry powder together and reserve until serving time.
STEP 5: Enjoy! These can be served immediately, or cooled and refrigerated for picnic food!
Recipe by
The Yum Queen
at https://yumqueen.com/scotch-eggs-with-curry-mayo-to-celebrate-spring-and-how-to-boil-the-perfect-hard-boiled-eggs/